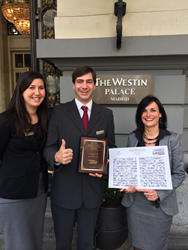 Working with Dittman was a pleasure, and we were delighted to host such a successful program at The Westin Palace Hotel.
New Brunswick, NJ (PRWEB) April 23, 2014
Dittman Incentive Marketing is pleased to announce that their Travel Partner of the Year award for 2013 has been presented to Westin Palace Hotel Madrid in coordination with DMC Spaintacular. The Palace Hotel and Spaintacular helped to create and deliver a seamless incentive travel trip for Santander Bank Top Performers. The program included an awards event, Magical Madrid, which won Dittman the 2013 Site Crystal Award for Most Outstanding Single Motivational Event within an Incentive Program.
Dittman takes their partnerships extremely seriously as they recognize what it takes to be a "cut above the rest", and values the importance of recognizing those who do make a difference. Fabian Michel, Event Coordinator at Weston Palace Hotel said, "My team and I are very proud to receive this award. Working with Dittman was a pleasure, and we were delighted to host such a successful program at The Westin Palace Hotel".
Dittman's team along with the Westin Palace Hotel staff expertly planned the trip. After an overnight flight to Madrid, the guests arrived in the early morning to the hotel where every room was ready for the 240 guests to check-in. The Westin Palace Hotel is located on Plaza Neptuno, across the street from the country's parliament building, which has for centuries been the central location for public protests in the nation's capital. Westin's local knowledge of an impromptu protest during the trip enabled the hotel to prepare Dittman with all the details. This allowed for planning and preparation to eliminate uncertainty with guests, and keep them on their regular schedule. Westin even offered the guests a complimentary cocktail party as they waited for escorted passage out to dinner at one of six of the city's fine restaurants.
Marty Doyle, Director of Travel Experiences at Dittman said, "From the level of attention the hotel's team demonstrated during our pre-con meeting, the extra effort made to ensure that not one guest out of 240 waited for their room on arrival day, to the proactive and extremely responsible approach they took in preparing us for the impending public protests on Plaza Neptuno, the entire team of the Westin Palace Hotel demonstrated just how important our guests and our business were".
Spaintacular created a variety of custom excursions including Madrid "Art and Royalty" and "Sports and Entertainment". They also transformed La Quinta de Jarama into a custom branded venue for the award-winning Magical Madrid award gala. This event was carefully crafted to drive the branding and vision of the organization throughout, and to celebrate the link between the Spanish and American groups.
About Spaintacular
Offering specialized Destination Management services to assist clients wishing to fulfill any kind of service related to the conference, meetings, incentives and events market. With over thirty years of experience in Destination Management, SPAINTACULAR sets the standards of the MICE Industry in Spain
About Dittman Incentive Marketing
For more than 35 years, Dittman Incentive Marketing has been an award-winning, quality leader in providing incentives, recognition, and rewards programs to help companies realize immediate ROI in motivating sales people, employees, channel partners, customers, and consumers. Dittman's signature products and services include: TotalPRO® (Performance Recognition Online) — an incentive, recognition and rewards online software solution (SaaS) - and Deluxe Group Incentive Travel. For more information visit http://www.dittmanincentives.com.