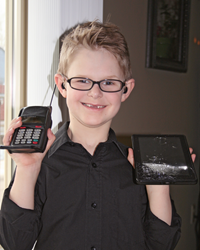 "Upcycling for our cause is a great way to have an impact on the environment as well as provide funds to further our mission of eradicating childhood cancer." Jim Leighton, Director of Corporate Partnerships, Children's Cancer Research Fund
Minneapolis, Minn. (PRWEB) April 21, 2014
On Earth Day, April 22, 2014, Children's Cancer Research Fund (CCRF) will be launching an Upcycle electronics program that turns retired electronics into charitable giving without anyone writing a check. Upcycle donations are 100% tax deductible, come with audited Department of Defense data destruction, and free shipping.
CCRF's aim is to engage local businesses, event participants, and community members with this Upcycle initiative to Upcycle no longer used devices such as smartphones, laptops, tablets and other mobile devices (full product list located on website). CCRF invites local businesses to Upcycle their retired electronics and IT assets slated for recycling. Upcycling eliminates recycling expenses, creates funding, and expands corporate commitment to environmental stewardship and sustainability. Businesses can also engage employees to Upcycle their personal retired electronics in support of CCRF.
CCRF is dedicated to raising awareness after realizing that there are 400,000+ cellphones discarded each day, and close to 20 billion pounds of e-Waste being discarded each year in the United States. E-Waste is a global epidemic and contains cancer causing toxins that are polluting the environment and our health.
Teaming up with Causes International (CI), a green cause Upcycle company, that turns e-waste into funding for non-profits, charities, foundations, municipalities, schools, and all organizations committed to the environment and charitable giving, CCRF will help eliminate e-Waste while creating funds to support children's cancer research.
What is Upcycling? Upcycling provides a second life to devices, and nearly doubles the positive environmental impact of recycling. Audited data destruction is 100% guaranteed, follows Department of Defense standards, HIPAA compliant, and 100% tax deductible. Upcycling bridges environmental stewardship, sustainability, and philanthropic giving without anyone writing a check.
How to donate: Donors go to the CCRF donation link http://www.childrenscancer.org/upcycle and press "Donate Electronics" to request a FREE shipping label(s) to mail in devices from their homes or offices.
"We are excited to launch this campaign on Earth Day. Upcycling for our cause is a great way to have an impact on the environment as well as provide funds to further our mission of eradicating childhood cancer." - Jim Leighton, Director of Events & Corporate Partnerships, Children's Cancer Research Fund