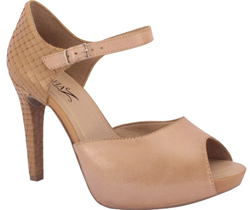 Sofia Z is a great gift for women who love heels but crave comfort. Our shoes are the best of both worlds!
Los Angeles, CA (PRWEB) April 21, 2014
Comfort and glamour in one sensational package is finally here with SOFIA Z shoes - featuring a patent-pending, lightweight cushioned insole footbed that cradles the foot in luxurious bliss for over 12 hours. And for a limited time, everyone can spoil mom with a pair of these luxurious heels for Mother's Day with an exclusive offer from Sofia Z: 40% off the SPRING COLLECTION online at http://www.sofia-z.com using discount code: MOTHERSDAY40. This promotion is valid until April 30, 2014.
Perfect for mothers, daughters, and women of all ages, Sofia Z is the fashionistas' dream footwear line that finally delivers elegant, sexy 4-inch heels with unparalleled comfort. The game changing shoe line is eliciting tremendous buzz for its technologically innovative craftsmanship that has been described to feel "like your feet are resting on pillows," and sophisticated, on-trend styles at accessible prices. Headlining the must-have, "wear-it-to-believe-it" list are Nicole, a peep toe pump with laser cut detailing and the Isabels, a timeless yet sexy peep toe with an ankle strap, designed to be one of the most comfortable shoes of the collection. Isabel is so comfortable that Usha Patel, founder and president of Sofia Z, has run a 5k race wearing them. Available for $350 in black shimmer, camel, leopard, zebra and cheetah print, the Isabel is the perfect heel for any occasion.
About Sofia Z
Created by Usha Patel, Sofia Z Shoes is the ultimate solution to every woman's dilemma of wanting the kind of heels worthy of dramatic entrances and designer dresses but doesn't compromise comfort. The line is a revolutionary blend of design and handcrafted construction that provides high heel glamour with the superior comfort of sneakers. Each shoe has been subjected to strenuous testing that ensures efficient weight and pressure distribution, impact absorption and dampening, rear fatigue resistance, temperature regulation, stability, balance and traction, especially on uneven surfaces. And all the materials used, primarily the finest quality Brazilian leather, has been tested for flexibility, bending stress, breathability and durability. Available in sizes 5 to 10 and retailing from $200 to $350, Sofia Z Shoes are available in boutiques nationwide as well as various online stores and on the website http://www.sofia-z.com/.