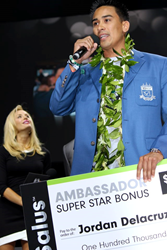 "A lot of different people helped me rise to the top," said Delacruz. He got help Nate Ridgeway, Madiba Thompson, Elias Callejo, Tony & Rhonda Lucero and GJ Reynolds. "I took massive action and was a sponge [in learning all that I could from them]."
Orlando,FL (PRWEB) May 06, 2014
Neil Haley, The Total Tutor host of the SimplyG Radio show, interviewed Jordan Delacruz to find out about his business, his physical transformation, and why people should join Delacruz's Visalus team.
Born and raised in Hawaii, Delacruz served 10 years in the United States Army, including a tour in Iraq. He left the United States Army and, with no prior experience in network marketing, earned $500,000 in 22 months while working for Visalus. By his second month, he was generating a 5-figure-a-month income. Now he's a ViSlaus 3-Star Ambassador.
He hopes to produce several Vi-Millionaires on his team in 2014. According to Delacruz, he was not in the best shape. His mom introduced him to the Visalus 90-Day challenge, a program that helped her lose 10 pounds. He said he saw an opportunity to lose weight and get in shape and, in a matter of 48 days, his waist-size shrunk from 35" to 32" and his body fat percentage was down 10 percent.
"A lot of different people helped me rise to the top in the company," said Delacruz. He got help from Vi Ambassadors Nate Ridgeway, Madiba Thompson, Elias Calejo, Tony and Rhonda Lucero and GJ Reynolds. "I took massive action and was a sponge [in learning all that I could from them]."
Jordan also spoke about what it means to work with 5 Star Ambassador GJ Reynolds. He said, "GJ is very transparent. He stayed the course. He has vision, and is VI for Life."
During the interview Delacruz said that he is so excited about the expansion of his business in Europe, where he already has clients in Germany and Austria. According to Delacruz, it will help him as he continues to go out and challenge people to get healthy one person at a time.
"Just lose that 10 pounds or build that 10 pounds," said Delacruz. "It's easy to understand. The belief system grows."
Delacruz also mentioned Project 10 Kids, which is a program designed to help put a dent in childhood obesity. "Me being a father and having 6-year-old daughter, Project 10 speaks to me."
When asked why people should join Delacruz's ViSalus team, the 26-month veteran said, "I am in the trenches with you. I am going to help you reach your goal. I lead by example and I make sure I am out working you and recruiting you and challenging you."
You can listen to show by going to http://simplyg.com/media/simplyg-radio/.