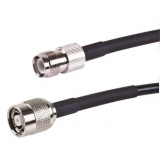 (PRWEB) April 25, 2014
Recently, Excel-Wireless.com, a leading online store for all kinds of wireless communication equipments, has unveiled its new cable jumper assembly collection, and announced all these new models are available at discounts.
The new collection consists of N Male to N Male - LMR195 cable assemblies, N Male to N Male - LMR195 cable assemblies, TS9 Male to N Female - LMR195 cable assemblies, QMA Male to N Male - LMR195 cable assemblies and more. They are popular on the market for the reliable function, modern looks and delicate craftsmanship.
Excel-Wireless.com is devoted to designing and offering high-quality UHF antennas and wireless communication systems with fast delivery to customers worldwide. The business has invested major resources into the discovery and implementation of new designs for wireless communication equipments.
Actually, the company has won many awards in the industry, and all its products are offered at competitive prices. Customer satisfaction is always at the first position here. All customers' message are replied within 24 hours. Many customers come back after their first orders and they feel greatly respected here at xcel-Wireless.com.
Excel-Wireless.com is considered by many customers to be unbeatable when it comes to providing high end cell phone boosters and cable jumper assemblies. These products are designed and created by the experts in the market. That is the reason that Excel-Wireless.com has gained many positive reviews in the past few months.
About Excel-Wireless.com
Excel-Wireless.com is a well-known supplier of cellular amplification and wireless communication systems with a focus on cell phone boosters. The business has many years of experience in the industry with a track record that it has cooperated with many companies, universities, military and government agencies and communities in all sizes around the world. For more details about the company and its products, please visit: http://www.excel-wireless.com/.