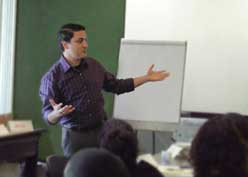 As we advance in this communication age, lack of communication skills is becoming the new "glass ceiling" for many professionals.
San Francisco, CA (PRWEB) April 21, 2014
It is more crucial than ever for professionals to be able to present their ideas. As we advance in this communication age, lack of communication skills is becoming the new "glass ceiling" for many professionals. Professionals who communicate well will get first pick of opportunities, choices, and resources.
MagneticSpeaking surveyed their 1100-member public speaking group to shed light on the top communication barriers professionals face in the work place.
One of the top barriers listed was "not knowing how to structure a great presentation." "We learn how to structure presentations in college, based on a 2,500 year system developed by the Greeks. Unfortunately, the Greek system is not fit for modern day presentations," said Peter Khoury, an ex-engineer turned professional speaker and founder of MagneticSpeaking. "Modern day presentations require a more agile, more flexible, and a more robust system."
Some of the other barriers include blanking out and not being able to think on the spot. "The good news is that everything on the list of barriers can be addressed and solved," said Travia FitzPatrick, a lead trainer with MagneticSpeaking. "There are many resources and trainings available to help professionals get over their communications sticking points."
Here is a list of some resources professionals can access:
1. Acting classes to help them get more comfortable in front of others
2. Improv classes to help them think better on their feet
3. Storytelling trainings to help them be more engaging
4. Coaching to help them structure their thoughts better
5. Public speaking groups like the local Toasmasters group, to help them practice and build their skills
According to MagneticSpeaking.com, taking acting and improv classes can help boosting communications skills especially if they are combined with traditional public speaking training and communication trainings.
MagneticSpeaking, is an industry leader public speaking training company. Headquarted in San Francisco, Ca. MagneticSpeaking provides public speaking training and coaching to corporate professionals and leaders. All classes are hands-on and interactive. All trainings incorporate acting, improvisation, video feedback, and modern presentation principles. To learn about MagneticSpeaking visit http://www.magneticspeaking.com or call 415.690.8468.
The core Trainings of the company include: The Magnetic Delivery Boot Camp, The Magnetic Presentations Boot Camp, The Magnetic Storytelling Boot Camp, and Personalized One-on-one Executive Presentation Coaching.