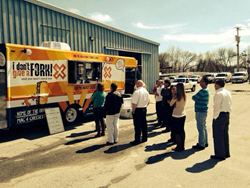 It is a million times better and easier now... and because of the increased room and business, I was able to hire employees!
Newark, Delaware (PRWEB) April 23, 2014
New breakfast and lunch options are now readily available to University of Delaware students, faculty, and nearby surrounding areas. Exactly one month ago, I Don't Give A Fork rolled out its new enhancements. The once food cart is now a completely upgraded and redesigned 18' diesel food truck. After all the renovations, it is now fully loaded with all the bells and whistles necessary to prep, store, and serve various breakfast and lunch options on a bi-weekly rotating menu.
On the recent expansion Leigh Ann explains, "It is a million times better and easier now... and because of the increased room and business, I was able to hire employees!"
Owner, Leigh Ann Tona, originally came up with the business idea from the lack of variety in available food options around the campus. After winning the Business Idea Pitch competition at University of Delaware back in November 2011, she decided to put her idea into motion. While creating the menu, Leigh Ann kept everyday workers and students in mind, who are constantly on-the-go and too busy to sit down for a meal. And thus, the name I Don't Give a Fork was born - delicious and easy-to-eat food with no forks needed! Now after a year and a half of serving hungry students and faculty, the food cart has been upgraded to a 18' diesel food truck. Upgrading to a fully loaded food truck gave Leigh Ann the opportunity to no longer be restricted to a stationary cart, but instead start traveling to various businesses several times a week to serve breakfast and lunch to hungry employees.
I Don't Give a Fork's reopening has generated such a huge response in the Delaware community; it's safe to say utensils won't be necessary on campus for the foreseeable future.
At I Don't Give A Fork, you will find not only high-quality ingredients in all the food items, but also personality! Some fun favorites is the signature sandwich the Mac & Cheesesteak - a Philly steak with grilled onions and macaroni and cheese mixed in, and the Vermonter, sliced ham, zesty honey mustard, sharp white cheddar, and homemade sweet apple slaw. Since the menu rotates every two weeks, you won't see the same items on it often so be sure to visit the food truck frequently and try all the new food items!
To help make the expansion process easier, Leigh Ann reached out to Vending Trucks, Inc., a food truck fabrication company located in East Brunswick, NJ. Vending Trucks specializes in custom designing food trucks and mobile kitchens, targeting entrepreneurs and businesses seeking advertising, event marketing, or expansion needs through the use of a food truck or mobile kitchen. After finding the food truck to best fit Leigh Ann's needs, the company completely built out and fabricated the vehicle with her specifications in mind. One custom feature of this 18' food truck is the security awning, which adds protection for the vehicle and equipment as well as extra branding space. Vending Trucks, Inc. offers custom design options like graphic vinyl wrapping, fabricating, and endless commercial kitchen equipment selections.
Check out I Don't Give a Fork's Facebook and Twitter pages for information on events the food truck will be attending or sign up to have breakfast or lunch served at your office on a semi-regular basis!