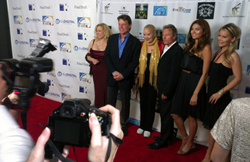 Worth The Entry Fee - Movie Maker Magazine
Los Angeles CA (PRWEB) April 22, 2014
New Media Shorts, Mobile, Tablet, Trailers, & Scripts From UK, USA, Hong Kong & Italy part of Early Selections for 5th Annual New Media Film Festival in Los Angeles CA
Announcing deadline to submit to the 5th Annual New Media Film Festival is may 1st An International Festival based in Los Angeles, the New Media Film Festival celebrates the ever-changing world of new media. Announcing deadline to submit to the 5th Annual New Media Film Festival is may 1st 2014 at Midnight PST.
Each entry is considered for Screening, Competition ($45k in Awards) and/or Distribution. Judges from Pixar, FOX, The Caucus and Other Industry Leaders.
As opening night for the 5th Annual New Media Film Festival draws ever nearer, we are excited to roll out our newest round of accepted New Media Projects! This year's Festival is shaping up to be an exemplary year, do not miss out on your chance to attend! Tickets are limited and when they are sold out, they are gone!
All projects screen at the state of the art Landmark Theatre (10850 W. Pico Blvd. LA CA 90064). To reserve tickets or for more information on programming, please visit: http://www.NewMediaFilmFestival.com
EARLY PROGRAMMING
SHORTS
GUSTAF Dir. Yann Caloghiris
UK 9:49 LA PREMIERE
Gustaf is a stylish psychological drama set against a bleak urban backdrop. Using a seamless blend of digital effects, and compelling story-telling to unravel the mystery that has protagonist frozen in stupor. Shot on Canon 5D Mk IV, Canon 7D
CALIFORNIA DREAMING Dir. Jiang Tian Ye
USA 10:00
California Dreaming portraits two young Chinese students falling love in Los Angeles where they discovers the beauty of the city as well as the ugly. When confronted by two thugs at a bar, Feng's impetuousness gets him shot. With pressures coming down on him from his parents, the lovers are forced to separate. Shot on Canon C300
MOBILE/TABLET
ART OF WOO Dir. Kelly Ann Burns
USA WORLD PREMIERE 3:22
Boy meets girl. Boy chases girl. Boy chases girl some more. Shot on iPhone 4S
FOR DOG LOVERS ONLY Dir. Jennifer S. Deayton
HONG KONG 3:15
Two dogs meet on the beach - a spirited girl and her brooding paramour - and in the spirit of the French New Wave, their tryst is brief, tender and bittersweet. Shot on iPhone 4S/iPhone5
ART ON WALL
THE GHOSTS OF BREAD AND PUPPET Dir. Harry Hall
USA
is a haunting, magical, musical trip to the infamous Bread and Puppet Theater's Museum in Glover, VT. You'll see the signature Giant Puppets (originally introduced in the anti-Vietnam War rallies in New York City during the 1960's) as well as the eerily beautiful Sets, Costumes and Props used in Pageants, Circuses and Parades.
SNIPLERS - A 30 Second Pitch
ON THE LINE Dir. Heather Sanders LA PREMIERE
USA 0:30
Curiosity turns deadly for a college student in his effort to unravel the sinister secret he mistakenly discovers. Shot on Canon T3i
THE ZEROS Dir. Steve Royall
USA 0:30
The Zeroes is a comedy about a group of kids who band together to take on the neighborhood bullies. Shot on 7D
TRAILER
CHEATIN MOVIE Dir Bill Plympton
USA 2:13
A newlywed wife proves the depth of her love by becoming her cheating husband's mistresses.
SCRIPTS
THE DOPE SHOW by Lara Celenza
ITALY
A jaded singer-songwriter, who's turned his back on music, travels from Italy to Texas in search of the girl who broke his heart.
RUN CHICKEN RUN by Eric Vasallo
USA
A champion cock fighting Rooster gets smuggled out of Cuba by his handlers and 'El Diablito' (the Little Devil) wreaks havoc, highlighting the cultural rifts between neighbors on an unsuspecting middle class Miami neighborhood.
The New Media Film Festival is still accepting submissions, the deadline for which is May 1st 2014 by midnight. The categories are: Animation, Digital Comics, Documentary, Feature, LGBT, Machinima, Mobile/Tablet, Music Video, New Media, New Media Scripts, Pilot, Shorts, Shot on RED, Sniplers, SRC- Socially Responsible Content, STEAM-Science, Technology, Engineering, Art, Math, Student, Trailers, Web Series. Each submission will be considered for Screening, Distribution Opportunities & Competition with over $45,000 in awards given out annually. To reserve badges or submit your new media project: http://www.NewMediaFilmFestival.com.
Our Founder/Director – Susan Johnston is an Award Winning Producer and is a Global Speaker on New Media, Social Media, Crowd Sourcing/Crowd Funding & Incremental Monetization in the Digital Space.
IMDB Bio: http://www.imdb.com/name/nm0426856/?ref_=fn_al_nm_2