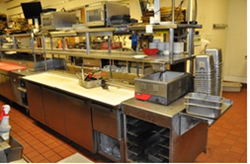 Naples, FL (PRWEB) April 22, 2014
Higgenbotham Auctioneers International (HAI) has announced the liquidation of a former Applebee's restaurant happening tomorrow, Tuesday April 22nd, 2014 at 10:00am EDT. The auction will be held live on-site at 10750 Tamiami Trail North, Naples, FL 34110 and is open to the public.
A variety of items will be on the auction block, consisting of kitchen equipment and dining room furnishings. The inventory list from the kitchen includes the hood system, grill, range, ovens, three-station deep fryer, walk-in refrigerator and freezer, microwaves, beverage stations, shelving and more. The dining tables, flat screen televisions, outdoor furniture, as well as the eight-head beer tab from the dining room will be offered.
Inventory preview begins two hours prior to the auction, running from 8:00am to 10:00am EDT. Checkout will be immediately available, with additional pick-up times available on Wednesday, April 23, 2014 from 9:00am – 2:00pm EST.
Photos are available now at http://www.higgenbotham.com, along with the full terms of sale, and directions to the property. Contact Higgenbotham Auctioneers at 800-257-4161 with questions.
About Higgenbotham Auctioneers International
Founded in 1959, Higgenbotham Auctioneers is headquartered in Lakeland, Florida and specializes in the sale of corporate real estate throughout the United States and the world by utilizing the auction method of marketing.
Higgenbotham is an alliance partner of NAI Global and enjoys continuing relationships with Fortune 500 clients such as Alcoa, International Paper, Walmart Realty, and Sinclair Oil, as well as many publicly traded and closely held companies.