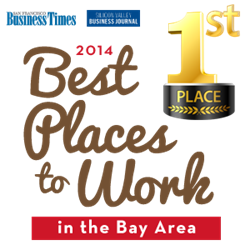 Santa Clara, CA (PRWEB) April 21, 2014
InfoObjects Inc. of Santa Clara, a leading IT services company focused on data-driven software applications using the power of open source technologies and Big Data, received the top award in its category as the Best Place to Work in the San Francisco Bay Area.
Being ranked No. 1 by the San Francisco Business Times/Silicon Valley Business Journal at the April 17 awards ceremony, InfoObjects joins highly respected technology leaders like Intuit, Workday and Genentech as great places to work according to their employees.
"I am delighted and honored that our employees have given us this amazing honor," said InfoObjects CEO Rishi Yadav. "We have great people and do everything we can to support them and make their work enjoyable. Happy employees make happy clients, and the award is just icing on the cake."
Employees from hundreds of Bay Area companies participated in an independent, third-party survey, ranking their employers' work culture, management practices, compensation and benefits, trust in the company's leaders, and feeling valued.
"We give our developers a lot of freedom at work, and everyone has equal say about issues from business processes to technology decisions," said Sudhir Jangir, InfoObjects CTO. "We credit our commitment to providing a great place to work for the high quality of our output, our high productivity, and low turn-over."
InfoObjects' management philosophy paid off with 60% growth in revenues over the past year, and more than double the number of Big Data engineering personnel.
About InfoObjects
With offices in Santa Clara and a software development center in Jaipur, India, InfoObjects combines US-based consulting with engineering teams in India to meet the exploding demand for responsive, high-quality software development services. The company also provides Intensive Big Data training for corporate clients and individuals.