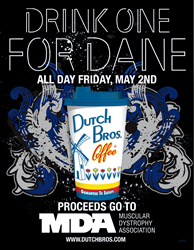 We are eternal optimists and believe one day there will be a cure for ALS.
Grants Pass, OR (PRWEB) April 23, 2014
Friday, May 2, is `Drink One for Dane' Day, when all Dutch Bros. Coffee locations in seven states will donate proceeds to the Muscular Dystrophy Association (MDA), the world leader in fighting Lou Gehrig's disease, also known as amyotrophic lateral sclerosis (ALS).
The event kicks off ALS Awareness Month and is held annually in honor of company co-founder, Dane Boersma, who was diagnosed with ALS in 2005 and passed away in late 2009.
Dane's memory continues to inspire everyone within the company to give their all every day. On Drink One for Dane Day, all employees and loved ones proudly wear and proclaim the event slogan, "Drink One for Dane."
"We are eternal optimists and believe one day there will be a cure for ALS," said Travis Boersma, Dane's brother and Dutch Bros. Coffee Co-Founder. "The services provided to families facing this disease are so vital, and we are pleased to support those families."
Last year, Dutch Bros. contributed a record-breaking $271,500 to MDA for research and family services funding. Since becoming involved with MDA in 2007 Dutch Bros. has donated over $912,580.
"MDA is immensely grateful to have Dutch Bros. as a partner in helping fund research for ALS and providing services for those served by MDA," said MDA Area Director Arlene Wedsted.
ALS is a disease that affects the parts of the nervous system that control voluntary muscle movement. There is no cure for ALS, and most people with ALS die within three to five years. To learn more about the MDA and ALS, visit mda.org.
Arlene continued, "During the annual 'Drink one for Dane' campaign, to see the outpouring of love and support for Dane, and the thousands of others living with ALS, is truly special and we thank everyone who visits Dutch Bros. on May 2nd."
To find the location nearest you, visit http://www.dutchbros.com/locations.
About Dutch Bros. Coffee
Dutch Bros. Coffee is the country's largest privately held, drive-through coffee company, with over 215 locations and over 2,500 employees in seven states.
Serving specialty coffee drinks, smoothies, freezes, teas and a private-label Dutch Bros. Blue Rebel™ energy drink, Dutch Bros. is known for a special focus on its communities and customers.
Dutch Bros. Coffee was ranked by J.D. Power and Associates as highest in customer satisfaction compared to other coffee companies in its 2012 and 2013 Specialty Coffee Retailer Satisfaction Reports.
Dutch Bros. Coffee is headquartered in Grants Pass, Ore., and was founded in 1992 by dairy farmer brothers of Dutch descent. To learn more about Dutch Bros., visit http://www.dutchbros.com.
FOR MEDIA ONLY
Contact: Dan Buck, pr(at)dutchbros(dot)com, 541.761.4884