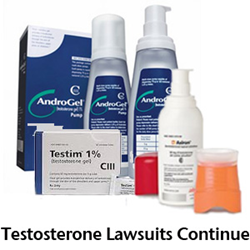 If your believe you have suffered cardiovascular problems due to testosterone treatment drugs such as Androgel and Testim, Call Wright & Schulte LLC today for a Free Legal Evaluation at 1-800-399-0795 or by visiting www.yourlegalhelp.com
New York, NY (PRWEB) April 22, 2014
Plaintiffs who have filed testosterone treatment lawsuits against the manufacturers of AndroGel and Testim have filed a motion with the U.S. Judicial Panel on Multidistrict Litigation (JPML) seeking the transfer of all federal claims involving low testosterone therapies to the U.S. District Court, Eastern District of Louisiana for coordinated pretrial proceedings. According to the motion, which was filed on April 11, 2014, at least 50 testosterone lawsuits have been filed in federal courts around the country on behalf of men who allegedly suffered heart attacks, strokes and other potentially-deadly heart problems due to their use of these medications, all of which involve common questions of fact and law. In addition to AndroGel and Testim, the motion states that other medications in this class include Axiron, Androderm, Fortesta, Delatestryl, Striant, Depo-Testosterone, and Testopel. (In Re: Testosterone Products Liability Litigation, No. 42, JPML)
The firm continues to investigate testosterone lawsuit claims involving AndroGel, Testim, and Axiron and feel that a national consolidation of these cases would benefit everyone involved. The attorneys at Wright & Schulte LLC continue to offer free legal consultations to men who believe they have suffered heart attacked, strokes and other cardiac issues due to "Low T" treatment drugs by visiting http://www.yourlegalhelp.com or calling 1-800-399-0795.
Testosterone treatments like AndroGel and Testim have been approved by the U.S. Food & Drug Administration (FDA) to treat hypogonadism (low testosterone) in men who suffer from the condition due to an underlying medical condition. According to the April 11th motion, all of the testosterone treatment lawsuits currently pending in federal courts allege that the manufacturers of these drugs misrepresented that their products are safe and effective treatments for low testosterone, and understated the health hazards and risks associated with their products. The manufacturers of low testosterone therapies are also accused of utilizing aggressive consumer and physician advertising campaigns to drive sales of their products.
In January, Wright & Schulte LLC learned the FDA reported that it was investigating the cardiovascular risks that may be associated with this class of medications after two studies indicated that prescription testosterone therapy might increase the risk of heart attacks, strokes and death in older men or men with pre-existing heart problems. Court documents indicate that the testosterone lawsuits cited in the April 11th motion were all filed in the wake of this announcement.
[fda.gov/Drugs/DrugSafety/ucm383904.htm, January 31, 2014]
On March 28th, plaintiffs in AndroGel lawsuits filed a request with the JPML seeking to have all federal claims alleging heart injuries specific to that drug consolidated in the U.S. District Court, Northern District of Illinois. According to court documents, the JPML has scheduled Oral Arguments on that matter for May 29, 2014. The Panel has not indicated if it will consider consolidation of testosterone treatment lawsuits involving other medications at that time. (In Re: AndroGel Product Liability Litigation, No. 36, JPML)
Men who used AndroGel, Testim or a similar drug may be eligible to file their own low testosterone therapy lawsuit if they experienced serious and life-threatening cardiovascular events during treatment. To learn more, or to arrange for a free legal consultation with an attorney at Wright & Schulte LLC, please visit yourlegalhelp.com.
About Wright & Schulte LLC
Wright & Schulte LLC, an experienced personal injury firm, is dedicated to the belief that America's legal system should work for the people. Every day, the attorneys of Wright & Schulte LLC stand up for the rights of people who have been injured or wronged and fight tirelessly to ensure that even the world's most powerful corporations take responsibility for their actions. If you're looking for a law firm that will guarantee the aggressive and personal representation you deserve, please do not hesitate to contact Wright & Schulte LLC today. Free Lipitor lawsuit case evaluations are available through yourlegalhelp.com or by calling 1-800-399-0795.
Contact:
Wright & Schulte LLC
812 East National Road
Vandalia, Ohio 45377
1-800-399-0795
http://www.yourlegalhelp.com
Like us on FaceBook
Follow us on Twitter