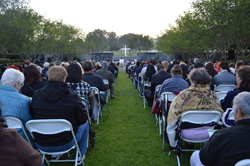 Whittier, CA (PRWEB) April 23, 2014
The 62nd annual Easter Sunrise Service at Rose Hills Memorial Park drew over 1,000 early risers on Sunday, April 20, 2014.
Among the largest and longest running Easter sunrise services in the region, the event drew in donations totaling more than $6,000 in support of the Interfaith Food Center, a non-profit charity organization dedicated to meeting the needs of hungry and homeless neighbors in our local communities.
This longtime tradition, hosted by Rose Hills and Whittier Area Clergy Association, featured scriptures, readings and prayers by President R. Wyatt Powell of Whittier Stake of the Church of Jesus Christ of Latter Day Saints, Father Bill Garrison of Saint Matthias Episcopal Church, Pastor Gabriel Lopez of East Whittier Christian Church, Reverend Kel Henderson of First Christian Church and Reverend Layne Beamer of First Christian Church.
About Rose Hills
Rose Hills, the world's largest and most beautiful memorial park, features premium property, modern funeral home, and architecturally stunning chapels. Located in Whittier, CA, and encompassing more than 1,400 acres, it was founded 1914. For more information, contact Antoinette Lou at (562) 205-4656.
###
Online
visit us: http://www.rosehills.com
follow us: https://twitter.com/RoseHillsEvents
watch us: http://www.youtube.com/user/RoseHillsMP