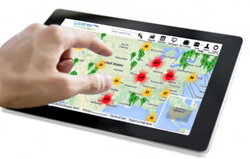 One of the key reasons we chose Lucernex was its ability to have visibility through Lx Contracts across our entire multi-brand portfolio
Dallas, TX (PRWEB) April 22, 2014
Lucernex Technologies announced today that Genesco has selected Lucernex's cloud-based Lx Contracts solution to manage its portfolio of more than 2,500+ mall-based locations. Genesco operates retail stores primarily under the names Journeys, Lids, Lids Locker Room, Johnston & Murphy, Journeys Kidz, Shi by Journeys and Underground by Journeys.
"One of the key reasons we chose Lucernex was its ability to have visibility through Lx Contracts across our entire multi-brand portfolio," said Kimberly Williams, Manager of Lease Administration for Genesco. "Additionally, we wanted to incorporate Lx Datamart due to its advanced reporting capabilities, a compelling function we have not seen in previous systems."
Lx Contracts will consolidate lease data across all Genesco brands as distinct portfolios within the one Lucernex system. Genesco also purchased the Lx Datamart, which will allow Genesco to leverage their existing advanced report solutions using a report-optimized version of the Lx Contracts database housed at Genesco. This will give senior management the ability to access and analyze data and run advanced reports across all portfolios from one system.
"Lx Contracts was selected due to our proven ability to rapidly implement even the most complex multi-brand portfolios of leases and our past success in converting from Genesco's legacy system," stated Joe Valeri, Lucernex President and Co-Founder. "We believe the ability to create true transparency across all brands within the Genesco portfolio will be a huge benefit to Genesco's management."
Lx Contracts is the Lease Administration and Rent Accounting module of Lx Retail, the market-leading Retail IWMS solution delivered in the True Cloud. Lx Contracts can support any size portfolio of stores including currency, date and location support worldwide.
The Lx Datamart provides unlimited enterprise reporting and the added security of an onsite backup of all contract financial data.
Implementation of the Lx Contracts solution began in March 2014.
About Lucernex
Founded in 2000, Lucernex Technologies provides retail real estate professionals with powerful cloud-based solutions to manage the store lifecycle. All Lucernex solutions were designed "by retailers for retailers" and can manage any size portfolio of leased and owned properties. Fortune 500 companies in the corporate real estate, hospitality and retail industries use Lucernex Technologies solutions every day to ensure compliance, mitigate risk and empower effective growth. As an innovative leader in retail real estate solutions, Lucernex continues to grow its customer base by applying its Web-based software expertise and real estate development insight to provide advanced tools and services for business. For more information, please visit http://www.lucernex.com.
About Genesco Inc.
Genesco Inc., a Nashville-based specialty retailer, sells footwear, headwear, sports apparel and accessories in more than 2,550 retail stores and leased departments throughout the U.S., Canada, the United Kingdom and the Republic of Ireland, principally under the names Journeys, Journeys Kidz, Shi by Journeys, Underground by Journeys, Schuh, Lids, Locker Room by Lids, Lids Clubhouse and Johnston & Murphy. The Company's Lids Sports Group division operates the Lids headwear stores and the lids.com website, the Locker Room by Lids and other team sports fan shops and single team clubhouse stores, and the Lids Team Sports team dealer business. In addition, Genesco sells wholesale footwear under its Johnston & Murphy brand, Trask brand, the licensed Dockers brand, SureGrip, and other brands. For more information on Genesco and its operating divisions, please visit http://www.genesco.com.
# # #