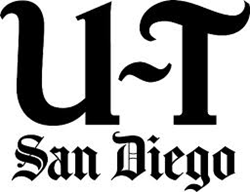 Our commitment to our advertisers has been to provide reliable, verified distribution throughout the entire mega-region
San Diego, CA (PRWEB) April 22, 2014
U-T San Diego announced today that Enlace Extra, an extension of the U-T's 15 year-old award-winning Spanish language publication Enlace, will now be featured as the U-T's primary ad buy option for distribution in Mexico. Enlace has been a longstanding and integral part of the U-T's mega-region strategy of expanding its reach on both sides of the border, and Enlace Extra has been the publication into which preprints have been inserted for distribution in Mexico for the past five years.
The announcement comes in connection with a change by U-T to its vendor for distribution in Mexico. The scope and integrity of the U-T's distribution in Mexico will remain--100,000 affluent households in Tijuana and 30,000 affluent households in Mexicali. The U-T also announced enhancements with its new vendor expecting to increase the visibility and reliability of Enlace Extra distribution by utilizing a state of the art tracking system and notarized verification of deliveries in randomly sampled areas.
"Our commitment to our advertisers has been, and will continue to be, to provide reliable, verified distribution throughout the entire mega-region—San Diego and Northern Baja," said Joe Brenneman, Chief Revenue Officer for U-T San Diego. "We are honored and excited to continue to service our advertising partners with this ad buy option in a border region where our presence, knowledge and capabilities are second to none."
# # #
About U-T San Diego
The San Diego Union-Tribune, LLC, owner of the 146-year-old U-T San Diego, is San Diego's leading media company and its most comprehensive source of news and information. Each week, U-T San Diego products reach more than 96 percent of all San Diego County households through the combined strength of its integrated media portfolio: the Pulitzer Prize-winning newspaper, U-T San Diego; the website, UTSanDiego.com; the Night + Day & DiscoverSD weekly entertainment guide; Spanish-language products, Enlace and Vida Latina San Diego; U-TTV, a Digital Platform that provides content, news and programming; and additional home-delivered products.