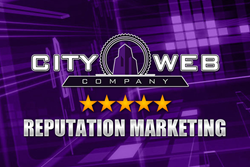 If your company depends on customers, you must have a Reputation System in place.
Denver, CO (PRWEB) April 22, 2014
Client feedback and a business' online reputation are two of the most important pieces of information available to consumers before they decide where to take their business. Rather than leaving those reviews to chance placement, City Web Company has launched a new Reputation Marketing product that can actively build a company's positive online reputation while delivering constructive criticism to improve customer experience.
A company's online reputation is not something that can be ignored or left to chance; however, monitoring and managing social media as well as dedicated review sites can be extremely time-consuming. City Web Company now offers a new proprietary system that not only monitors online reputation but also is capable of building a positive online reputation. "If your company depends on customers, you must have a Reputation System in place," said City Web Company CEO Matt Gronbeck.
City Web Company begins its reputation-building process by collecting business reviews from top review sites and creating a database for the client to get a good picture of its original online reputation. From there, City Web Company ensures that positive reviews appear on the client's own web site as well as across the spectrum of social media, such as Facebook, LinkedIn, Pinterest, and Twitter.
Included in the Reputation Marketing product is a custom-designed business feedback page as well as a personalized media center. From the media center, clients can print ready-made marketing materials – such as business review cards, flyers, table tents, window clings, stickers, bookmarks, counter cards, and email templates – that direct customers to the feedback page.
City Web Company also collects negative reviews for clients. These reviews are compiled so that possible problems with customer satisfaction can be addressed. "Without a Reputation Marketing system in place, your business may miss the opportunity to improve," said Gronbeck. "Any business is only one customer away from having a bad online reputation, and that will cost you revenue every single day."
About City Web Company
City Web Company provides online marketing for hundreds of clients with a blend of reputation marketing, SEO, social media marketing, and more. City Web Company strives to increase its clients' bottom lines through brand visibility. Established in 2008, City Web Company has served both domestic and international companies from various industries. For more information, visit http://www.CityWebCompany.com.