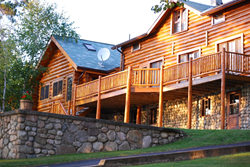 "A cabin rental in the Great Smoky Mountains is an excellent way to experience life like the locals."
Pigeon Forge, TN (PRWEB) April 23, 2014
It almost sounds like a dream vacation: Wake up to watch the sun rise over the Great Smoky Mountains on your secluded front porch as you kick back in a rustic rocking chair. Then, spend the rest of the morning visiting quant shops in the Glades and driving through Cades Cove. Lunch is made on the grill, and the afternoon is spent relaxing in your private hot tub. In the evening, you'll travel into town for a delicious dinner and to catch an award-winning show at one of the Parkway's favorite theaters.
There's no denying it: A cabin rental in the Great Smoky Mountains is an excellent way to experience life like the locals. But before you shell out your hard-earned cash for a cabin with an expectation of a memorable stay, keep the following information in mind to help make sure you don't arrive at your destination only to find a rundown motel with a parking lot view.
What is a vacation rental?
A travel industry term, "vacation rental" simply means the renting out of a fully-furnished apartment cabin, house or condo to tourists on a temporary basis – usually weekly or monthly. Here in the Great Smoky Mountains, options range from quaint one-room cabins to expansive mountainside mansions. You'll likely find options at all kinds of price points with all kinds of amenities.
Why choose a vacation rental in Pigeon Forge?
For most folks, the best reasons to choose a vacation rental in the Smokies are the cost and the location. In many cases, you'll end up pay less for a week-long stay in a cabin than you would in a similar hotel. You'll also likely end up saving money on food and other expenses, as your cabin will have a fully-equipped kitchen and you won't have to eat every meal at restaurants. Additionally, you'll have more living space compared to a hotel room, including multiple bedrooms and bathrooms and private dining areas. You'll also enjoy more privacy and be able to experience the area just like a local.
What should I think about when looking at vacation rentals?
You'll find hundreds of vacation rentals and cabins here in the Smoky Mountains. You can narrow down you options and make a decision by considering the following questions:
How many: Are you traveling to Pigeon Forge with a group? How many bedrooms do you need?
Linens/towels: Are these provided, and if so, how often are they changed?
Kitchen: What is provided in terms of appliances, pots/pans, utensils? Is there a coffee maker, toaster? Full kitchen or kitchenette? Full size fridge or mini?
Cleaning service: How often, and what does it cover?
Pets: Are you traveling with Fido and Fluffy? Is the rental pet friendly?
Laundry: Is there a dryer and/or washer in the unit? If not, what is available, and where?
Phone/internet: Is there a phone in the unit for local calls? Can you use a cell phone at the cabin? Does the cabin have Wi-Fi or an internet connection?
Children: Does the unit have stair gates and/or a crib?
Supplies: Will you need to provide your own soap, toilet paper, etc.?
Transportation: What kind of parking is available?
General security: What type of security is there?
It's also wise to consider your family's travel plans and preferences.
How to find a Pigeon Forge vacation rental
You'll find cabin, chalet and vacation rental listings at PigeonForge.com. It's an extensive list, so keep the above questions in mind as you browse! If you're traveling with a group, you can request customized information from PigeonForge.com to help make the planning process easier.
Spending your vacation in a rustic Smoky Mountain cabin will provide a rich, exciting experience incomparable to staying in a hotel or motel. You'll truly enjoy a home away from home! And, after all, isn't that what you were going for?
PigeonForge.com has helped millions of visitors plan Smoky Mountain vacations since 2000. For additional information, visit http://www.pigeonforge.com.