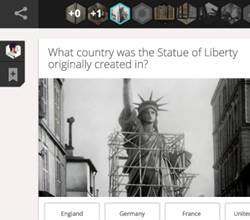 We're giving industry experts and undiscovered leaders a place to call home.
Eugene, OR (PRWEB) April 23, 2014
Founded in what many are calling The Silicon Shire, Bloxi brings a fresh, clean design to the often cluttered industry of trivia, quizzes, and knowledge-sharing. Users can create and share Blocks, which are image-based questions designed to both provide new information and test participants' knowledge.
"You have sites like Reddit, Buzzfeed and Twitter where people can gather or share information, but Bloxi allows anyone to showcase their skill-set and expertise with a competitive twist," says Thomas Emmons, CEO and Co-founder. "You're going to get points when people complete your Block, but you're going to get even more traction when you create an exceptional Block. This gives both undiscovered and established leaders a level playing field to become industry influencers."
Bloxi's image-focused layout allows for a simple user experience and the ability to quickly scroll or search for categories of interest. After a considerable amount of user feedback, Bloxi will be releasing new features this month, including comments, giving users a way to communicate with Block creators and other players.
"The motivation behind Bloxi is to create a way for people to interact with one another and share their expertise, in a world where face to face interactions are decreasing," says CTO and Co-founder Nate Bernstein. "We're giving industry experts and undiscovered leaders a place to call home."
About Emberex Inc. and Bloxi
Emberex Inc. is a web development company in Eugene, Oregon that provides custom web solutions to businesses and individuals. Since 2007, Emberex Inc. has consistently developed innovative solutions for organizations like the University of Oregon, Cengage and a variety of others. Emberex Inc. launched a startup called Bloxi in March 2014. Emberex is currently a privately owned company.