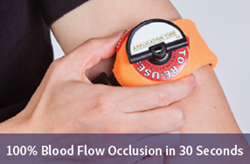 New MATResponder Tourniquet uses a unique mechanical advantage tourniquet system to provide first responders with safe compression in controlled increments.
Vancouver, BC (PRWEB) May 01, 2014
Pyng Medical Corp. (PYT:TSX.V), an award-winning developer of trauma and resuscitation products for emergency, combat and critical care personnel, announces the launch of MATResponder™, a new emergency tourniquet designed specifically for first responders.
MATResponder is based on the award-winning design of Pyng Medical's MAT® tourniquet, which was originally developed for the US Department of Defense and is designed for military and combat personnel. Awards for MAT include the IDSA's Gold Award for Best Medical Product Design of 2006, Design of a Decade in 2010 (Silver), and 2007 INDEX Award for best medical product in the world (Finalist).
MATResponder is Pyng Medical's second generation tourniquet product designed for first responders and emergency medical services, and will replace their current E-MAT tourniquet.
The new MATResponder tourniquet offers advanced safety features, including a no-slip buckle, and uses a unique mechanical advantage tourniquet system to provide first responders with safe compression in controlled increments. Additional benefits of MATResponder include:

Advanced safety features, including a no-slip buckle
Easy one-hand application100% blood flow occlusion in 30 seconds (as measured by Doppler, BP and Oximeter sensors.
Safe compression with the ability to be applied in small, controlled increments and easily released.
Easy to use and learn for all levels of medical and non-medical personnel.
Multi-purpose application to arms, legs and trapped limbs.
Secure mechanical advantage tourniquet system prevents slipping and loosening.
Compact and lightweight design.
Durable and effective even in extreme conditions, such as mud, water and sand submersion, extreme cold, ice-encrustment and hard surface (concrete) impact.
In three independent studies by the Army, Navy, and Marine Corps that compared tourniquet products and methodologies, MAT® performance was ranked first for stopping blood flow, the primary clinical outcome a tourniquet is supposed to deliver.
For more information, visit the website page at go.pyng.com/matresponder.
About Pyng Medical Corp.
Pyng Medical Corp. engineers and markets award-winning trauma and resuscitation products for front-line critical care personnel world-wide. Pyng's product portfolio includes innovative sternal intraosseous (sternal IO) pelvic stabilization and tourniquet devices specifically designed and customized for both the military and civilian markets. With growing markets in North America, Europe and Asia, Pyng develops user-preferred medical devices for use by hospital staff, emergency medical services and military forces worldwide.
More information about Pyng is available on SEDAR at http://www.sedar.com under the Company's profile and on its website: http://www.pyng.com.
Neither the TSX Venture Exchange nor its Regulatory Service Provider (as that term is defined in the policies of the TSX Venture Exchange) accepts responsibility for the adequacy or accuracy of this release.
Safe Harbour Statement; Forward-Looking Statements: This release may contain forward-looking statements based on management's expectations, estimates and projections. All statements that address expectations or projections about the future, including statements about the Company's strategy for growth, product development, market position, expected expenditures and financial results are forward-looking statements. Some of the forward-looking statements may be identified by words like "expects", "anticipates", "plans", "intends", "projects", "indicates", and similar expressions. These statements are not guarantees of future performance and involve a number of risks, uncertainties and assumptions. Many factors, including those discussed more fully elsewhere in this release and in documents which may be filed with the British Columbia Securities Commission, the Alberta Securities Commission, the TSX Venture Exchange, as well as other USA Commissions, could cause results to differ materially from those stated. These factors include, but are not limited to changes in the laws, regulations, policies and economic conditions, including inflation, interest and foreign currency exchange rates, of countries in which the Company does business; competitive pressures; successful integration of structural changes, including restructuring plans, acquisitions, divestitures and alliances; cost of raw material, research and development of new products, including regulatory approval and market acceptance; and seasonality of sales in some products.