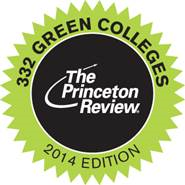 Endicott takes its commitment to sustainability seriously in our facilities, student experience, and academic offerings.
Beverly, MA (PRWEB) April 23, 2014
Endicott College is one of the 332 most environmentally responsible colleges in the U.S. and Canada, according to The Princeton Review (http://www.PrincetonReview.com). The education services company known for its test prep programs and college rankings, ratings, and guidebooks profiles Endicott in the fifth annual edition of its free downloadable book, "The Princeton Review's Guide to 332 Green Colleges."
The Princeton Review chose the schools for this guide based on a survey it conducted in 2013 of administrators at hundreds of four-year colleges to measure the schools' commitment to the environment and to sustainability. The institutional survey included questions on the schools' course offerings, campus infrastructure, activities and career preparation. (Notes follow on how schools were chosen.)
Published April 17, a few days before the April 22 celebration of Earth Day, the 216-page guide is the only free comprehensive resource of its kind: it can be downloaded at http://www.princetonreview.com/green-guide and http://www.centerforgreenschools.org/greenguide.
The Princeton Review created its "Guide to 332 Green Colleges" in partnership with the Center for Green Schools (http://www.usgbc.org) at the U.S. Green Building Council (USGBC).
The 322 school profiles in the guide feature essential information for applicants – facts and stats on school demographics, admission, financial aid – plus write-ups on the schools' sustainability initiatives. A "Green Facts" sidebar reports on a wide range of topics from the school's use of renewable energy sources, recycling and conservation programs to the availability of environmental studies and career guidance for green jobs.
In the guide's profile on Endicott, The Princeton Review highlights the school's sustainability practices, Endicott College wins points for creativity in the challenge of going green. Three hundred thousand square feet of new building space, including the newly built, eco-friendly Marblehead Hall, meets sustainability requirements for operations and maintenance. Academically, the college offers an environmental science major, which utilizes the dynamic ecosystems, including ocean, marsh, forest, and stream systems, directly on campus, as well as the nearby North Shore of Massachusetts, to implement living education. Historically, the school has also heavily encouraged internships with local organizations, deepening the possibilities for environmental study.
"Endicott takes its commitment to sustainability seriously in our facilities, student experience, and academic offerings. Our ocean setting reminds us daily of the need for stewardship and respect for our environment. Endicott students study these topics in many academic disciplines and have frequent opportunities to integrate the importance of our natural world across the curriculum," said Richard Wylie, President of Endicott.
Rob Franek, Senior VP/Publisher, The Princeton Review said, "We are pleased to recommend Endicott College to the many students seeking colleges that practice and promote environmentally-responsible choices and practices."
Franek noted his Company's recent survey findings indicating significant interest among college applicants in attending "green" colleges. "Among 10,116 college applicants who participated in our 2014 'College Hopes & Worries Survey,' 61% said having information about a school's commitment to the environment would influence their decision to apply to or attend the school," he said.
Rachel Gutter, director of the Center for Green Schools at the U.S. Green Building Council, commented "In collaborating with The Princeton Review on this annual guide, we have seen that sustainability on campuses continues to be an important deciding factor for today's four-year college bound students. We are excited to once again provide prospective students and their parents with a resource to help them navigate this often daunting decision-making process."
How Schools Were Chosen for the Book
The Princeton Review chose the schools based on a survey the Company conducted in 2013. The survey asked administrators at hundreds of colleges across the U.S. and Canada about their institution's sustainability-related policies, practices, and programs. Using survey data that covered more than 25 fields, The Princeton Review tallied its "Green Ratings" (scores from 60 to 99) for 832 schools and reported them in the school profiles on the Company's website and in its college guides in summer 2013. The 332 schools in this guide received scores of 83 or above in that assessment. (Note: The Princeton Review does not rank the schools 1 to 332, nor does it report their Green Rating scores in this book.) Information about the Company's Green Rating and its "Green Honor Roll" list of 22 schools that received the highest possible score, 99, is at http://www.princetonreview.com/green.aspx.
About Endicott
Located in Beverly, Massachusetts on 235 acres of oceanfront property, Endicott College offers doctorate, Master's and Bachelor degree programs in the professional and liberal arts. Founded in 1939, Endicott provides an education built upon a combination of theory and practice, which is tested through internships and work experience. Studying at the Beverly campus, regionally, and internationally are approximately 2,400 undergraduate and more than 2,600 adult and graduate students. For more information, visit http://www.endicott.edu.
About The Princeton Review
The Princeton Review is a leading test preparation and college admission services company. Every year it helps millions of college- and graduate school-bound students achieve their education and career goals through its test preparation, tutoring, and admissions services, its online resources, and its more than 150 print and digital books published by Random House LLC. The Company delivers its services via a network of more than 4,000 teachers and tutors in the U.S.A. and Canada, and through its international franchises in 14 other countries. The Company also partners directly with school districts and non-governmental organizations to provide students with college readiness services including college selection, test preparation, financial aid advice, and admissions support. The Princeton Review is headquartered in Natick, MA, and is privately held. For more information, visit http://www.princetonreview.com and http://www.facebook.com/ThePrincetonReview. Follow the Company's Twitter feed @ThePrincetonRev
About the Center for Green Schools at the U.S. Green Building Council
The Center for Green Schools at USGBC is making sure every student has the opportunity to attend a green school within this generation. From kindergarten to college and beyond, the Center works directly with staff, teachers, faculty, students, administrators, elected officials and communities to drive the transformation of all schools into sustainable places to live and learn, work and play. For more information, visit centerforgreenschools.org or find us on Twitter and Facebook.
About the U.S. Green Building Council
The U.S. Green Building Council (USGBC) is committed to a prosperous and sustainable future through cost-efficient and energy-saving green buildings. USGBC works toward its mission of market transformation through its LEED green building program, robust educational offerings, a nationwide network of chapters and affiliates, the annual Greenbuild International Conference & Expo, the Center for Green Schools and advocacy in support of public policy that encourages and enables green buildings and communities. For more information, visit usgbc.org, explore the Green Building Information Gateway (GBIG) and connect on Twitter, Facebook and LinkedIn.
Media Contacts:
Endicott College: Joanne Waldner, 978-232-2013, jwaldner(at)endicott(dot)edu
The Princeton Review: Jeanne Krier, 212-539-1350, pressoffice(at)review(dot)com, or Kristen O'Toole, 888-347-7737 ext. 1405, kotoole(at)review(dot)com
U.S. Green Building Council: Jacob Kriss, 202-595-3992, jkriss(at)usgbc(dot)org