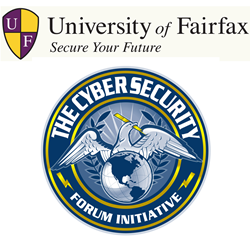 Northern Virginia (PRWEB) April 23, 2014
Employees and clients who have completed the Cyber Security Forum Initiative (CSFI) coursework may now be able to receive graduate credit towards a master's or doctoral degree in cybersecurity from the University of Fairfax (UoF). Under an agreement signed by the two institutions last week, the UoF has conducted a prior learning assessment for a variety of CSFI courses and assigned appropriate academic credit toward one of their accredited graduate degrees.
The MOU was signed by UoF President, Dr. Christopher V. Feudo, and CSFI President, Paul de Souza. The MOU is designed to facilitate the award of Prior Learning Assessment (PLA) credit to CSFI employees who seek admission to UoF, as well as those applicants who have successfully completed certain courses offered by CSFI.
As malicious cyber activity continues to grow at an unprecedented rate, severely threatening the nation's public and private information infrastructure, the need for qualified and certified cybersecurity professionals becomes even more critical. Cybersecurity professionals must mitigate such attacks which continue to increase in complexity, frequency and severity. As a result, the UoF and CSFI Academic Partnership will facilitate the opportunity to earn critical cybersecurity certifications, master's and doctoral degrees in cybersecurity at UoF by applying applicable work, educational, and training experience as credits toward UoF programs of study.
The University of Fairfax is the only accredited graduate university in the nation exclusively dedicated to cybersecurity. As a result, UoF is a leading provider of senior cybersecurity professionals to both the public and private sectors. Major employers hire and promote UoF students and alumni as cybersecurity specialists, managers, and executives. The University's online, practitioner-oriented cybersecurity graduate degree and certification programs are taught by expert cybersecurity professionals, who become an integral part of the professional network throughout the student's career.
"This Academic Partnership will help the CSFI employees and clients to advance their careers within their chosen cybersecurity field, and enhance cybersecurity thought leadership with the support of the University of Fairfax," said CSFI President Paul de Souza.
"As the nation's first graduate institution focused exclusively on the field of cybersecurity, the University of Fairfax recognizes the need for cybersecurity professionals in all fields, but particularly in national defense," said Christopher V. Feudo, Ph.D., president of the University of Fairfax. "Through this partnership, the University will enhance its mission to fill the critical shortage in high-level cybersecurity practitioners in this vital area."
About the University of Fairfax
The University of Fairfax is an accredited, cybersecurity graduate university which seeks to address the growing shortage of cybersecurity professionals who can conduct cutting-edge research. The University of Fairfax offers online graduate programs with curricula exclusively focused on cybersecurity. Founded in response to 9/11, the University of Fairfax is accredited by the Accrediting Commission of the Distance Education and Training Council (DETC). The Accrediting Commission of DETC is listed by the U.S. Department of Education as a nationally recognized accrediting agency and is a recognized member of the Council for Higher Education Accreditation (CHEA). The University of Fairfax has been certified by the State Council of Higher Education in Virginia (SCHEV) to operate in the state of Virginia. The University of Fairfax is an Authorized Education Partner and CPE Provider of (ISC) ®, and has received National Security Agency (NSA) authorization for awarding both the NSA 4011 and 4012 certifications. UoF is also a participant in the Yellow Ribbon Program for GI Bill recipients, and one of Military Advanced Education's 2014 Top Military-Friendly Colleges & Universities.
About Cyber Security Forum Initiative
The Cyber Security Forum Initiative (CSFI) is a non-profit organization headquartered in Omaha, NE, and Washington, DC, with a mission to provide Cyber Warfare awareness, guidance, and security solutions through collaboration, education, volunteer work, and training to assist the United States government, United States military, commercial interests, and international partners.