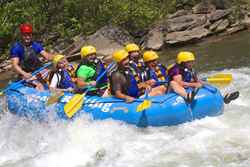 2014 Happiest Community of the Year
Knoxville, Tennessee (PRWEB) April 24, 2014
Winner of Real Estate Scorecard's 2014 Bliss Award™ for Happiest Community of the Year, The New Villagers Club gives the warmest of welcomes to newcomers in the community. On Monday, May 19, 2014, buyers searching for where to live in Eastern Tennessee have the opportunity to gauge the friendliness of the community at the monthly coffee being held at the Tanasi Clubhouse.
Check out a few of the upcoming events and excursions being hosted by The New Villagers Club:
May 4, 2014: Jersey Boys – Performs at the Tennessee Theatre in Knoxville
May 18, 2014: Doc's All-American Grill – Cocktails & Trivia Night in Knoxville
May 30, 2014: Beatles Tribute Band – Show starts at 8 p.m. at the Knoxville Civic Center
June 13, 2014: Dinner and Smokies Baseball – Party begins at 7:15 p.m. at Holsten's Kitchen
June 23, 2014: June Dining Out at Carrabba's – Wine and Dine at 5:00 p.m. with fellow Villagers
For those who haven't heard, there is one master-planned community that is so full of love and excitement that it won Real Estate Scorecard's 2014 Bliss Award as the Happiest Community of the Year based on the overwhelming positive feedback from the Tellico Village property owners.
The Eastern Tennessee lake community Tellico Village is no stranger to winning Bliss Awards. Last year, the Loudon neighborhood knabbed a Bliss Award for the overall "Best Tennessee Community of the Year." Since then they continue to let their happiness shine and retirees can't help but feel the warm welcomes when they visit and delve deep into the Tellico Lake relocation information. Tellico Village's positive and supportive members, also known as the Villagers, embrace new residents with open arms and have exciting organized events activities to help them acclimate quickly to their new surroundings.
Tellico Village understands how important it is to welcome new Villagers and are proactive about lessening the concern of "Will I fit-in?". As the 2014 Happiest Community of the Year, members of the community formally welcome new Villagers in their monthly newsletters and at the monthly New Villager/HOA Welcome Coffee at the Tanasi Clubhouse.
For example, in the most recent March 2014 issue, a fun New Villagers Bowling and Friendly Walk was designed to help integrate new members into the community. New Villagers also met new friends at the monthly Book Club or at the 2014 New Villager Golf Club outing. The Villagers have access to the community's very own organized activities for upcoming months. These activities include: Cards & Games, Gourmet Wine Dinners for Six, Wine Tasting Groups, Muddy Boots Hiking Club and white water rafting on the Ocoee River.
For retirees who are still deciding where to retire in Tennessee and who happen to visit during Tellico Village's Discovery Package, the community HOA hosts a New Villager/HOA Welcome Coffee every 3rd Monday of the month at the Tanasi Clubhouse. New Villagers can meet and greet with other members, while learning more about Tellico Village's community initiatives and other regular organizations and clubs.
About Real Estate Scorecard:
Real Estate Scorecard writes unbiased real estate reviews providing in-depth information about popular gated communities in Florida, Georgia, North Carolina, South Carolina and Tennessee, all in an effort to help people discover where to retire in the Southeast.
Website: http://realestatescorecard.com