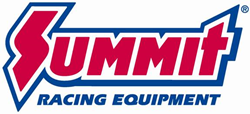 Tallmadge, OH (PRWEB) April 24, 2014
Enthusiasts can build a stout driveline without emptying their wallets with USA Standard Gear lockers, ring and pinion gear sets, and axle shafts available now at Summit Racing.
SPARTAN LOCKERS
Spartan Lockers offer affordable, reliable traction for both car and truck applications. The lockers are designed to fit into a standard carrier, and use a revolutionary (pun intended) spring and pin designed to make installation easy. For added strength, Spartan Lockers feature drivers and couplers made from a high-nickel 9310 chromoly. They're available for most common import and domestic front and rear axles.
RING AND PINION GEAR SETS
USA Standard Gear Ring and Pinion Sets are precision machined for superior durability. With a full line of gear ratio sets for most common applications, including several hard-to-find setups, USA Standard Ring and Pinion Sets can put an end to your junkyard scrounging. For added peace-of-mind, each set is warrantied to be free from defects for one year.
DIRECT REPLACEMENT AXLE SHAFTS
Made from durable steel for superior strength and performance, USA Standard Gear Axle Shafts are direct replacements for the stock units. They use press-in wheel studs. USA Standard Gear Axle Shafts are available for these axles:

Chrysler 9.25 inch
Dana 44 and 60
Ford 7.5, 8,8, 9, and 9.75 inch
GM 7.5 and 7.625 10-bolt
GM 8.2 inch 10-bolt and 8.5 inch 12-bolt (passenger car)
GM 8.6 inch and 8.875 inch truck
SEE ALL USA STANDARD GEAR PRODUCTS AT SUMMIT RACING
Summit Racing Equipment
http://www.SummitRacing.com
1-800-230-3030