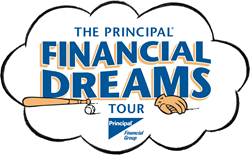 Des Moines, IA (PRWEB) May 01, 2014
The Principal Financial Group® will honor military members and the outstanding contributions they make to our country and communities during the 2014 Principal® Financial Dreams Tour. The Tour will make 18 stops from coast-to-coast and will provide attendees with information to help them plan for a brighter financial future for themselves and their families.
Since 2004, The Principal® has brought more than 450 events to minor league ballparks, attracting nearly two million fans. Past tours have given fans the chance to meet some of baseball's biggest stars, including Steve Garvey, Dave Stewart, Tommy John, Rollie Fingers and Lee Smith, among others.
During the tour, 15 teams will host a National Anthem competition to see who will sing "The Star Spangled Banner" at their Dreams Tour game. Fans from around the country will be able to vote on which winner will be the ultimate champion. The National Winner will receive a pair of season tickets from their hometown team and the opportunity to sing the national anthem on opening day, 2015.
Additionally, at each game, The Principal will make a $1,000 contribution to a local charity that supports area veterans and military families.
"We enjoy supporting and connecting with our customers and financial advisor partners in their home communities by providing a fun minor league baseball event," said Mary O'Keefe, senior vice president and chief marketing officer, The Principal. "Honoring our military home town heroes and contributing to a veterans service organization at each Principal Financial Dreams tour stop is a natural extension of our many efforts to help military members and their families."
"The Birmingham Barons are honored to continue a most successful partnership with Principal and to be again included in this year's Dreams Tour," said John Cook, sales director with the Birmingham Barons. "We are also thrilled that a major component of this year's partnership is directed at our veterans as we pay tribute to those who've allowed us to enjoy our freedoms that include the great game of baseball."
This year's Tour will feature MLB All Star Aaron Boone as the Tour's Social Media Ambassador.
During his career Boone played for the Cincinnati Reds, New York Yankees, Cleveland Indians, Florida Marlins, Washington Nationals and Houston Astros. He is best known for his walk-off home run in the 11th inning during Game 7 of the 2003 ALCS, which gave the New York Yankees a 6–5 victory over the Boston Red Sox. He is currently employed by ESPN as a game analyst and contributor to Baseball Tonight. Aaron will share Tour activities, media interviews and messages with his social media following throughout the tour to keep fans in the loop and part of the action.
The 2014 Principal Financial Dreams Tour begins in June. To learn more about the event and schedule, visit: http://www.principal.com/dreamstour. Connect with us on Twitter at http://twitter.com/PFGDreamsTour, or on Facebook at http://www.facebook.com/PFGDreamsTour.
About the Principal Financial Dreams Tour.
The Principal Financial Group is proud to sponsor The Principal® Financial Dreams Tour, an event that celebrates America's National Pastime, and the businesses and fans in minor league communities across the country that support their teams. The Principal is dedicated to helping businesses and individuals meet their financial goals, and the 2014 tour aims to do just that by providing attendees with information they can use to put themselves on the road to a brighter financial future. During the tour, The Principal will highlight the Four Bases of Financial Security as well as its Planning Center – an online hub of information providing advice and encouragement to help people imagine their financial dreams, then take the next steps to make them happen.
Four Bases of Financial Security

First base: Shield your family from the unexpected with life insurance
Second base: Protect your ability to earn an income with disability insurance
Third base: Secure your retirement through savings and investments
Home plate: Set your financial goals. Get an advisor. Get a plan.
For more information, visit http://www.principal.com/dreamstour or http://www.principal.com/planningcenter.
About the Principal Financial Group
The Principal Financial Group® (The Principal®) is a global investment management leader offering retirement services, insurance solutions and asset management. The Principal offers businesses, individuals and institutional clients a wide range of financial products and services, including retirement, asset management and insurance through its diverse family of financial services companies. Founded in 1879 and a member of the FORTUNE 500®, the Principal Financial Group has $483.2 billion in assets under management and serves some 19.4 million customers worldwide from offices in Asia, Australia, Europe, Latin America and the United States. Principal Financial Group, Inc. is traded on the New York Stock Exchange under the ticker symbol PFG. For more information, visit http://www.principal.com.
2014 Principal Financial Dreams Tour Stops (Dates and teams subject to change.)
Tour Dates:
June 5 Long Island Ducks, Long Island, NY
June 11 Birmingham Barons, Birmingham, AL
June 17 Harrisburg Senators, Harrisburg, PA
June 18 Columbus Clippers, Columbus, OH
June 19 Iowa Cubs, Des Moines, IA
July 9 Frisco Roughriders, Frisco, TX
July 9 Kansas City T-Bones, Kansas City, KS
July 10 Oklahoma City Redhawks, Oklahoma City, OK
July 10 River City Rascals, O'Fallon, MO
July 14 Fort Wayne Tin Caps, Fort Wayne, IN
July 16 Wisconsin Timber Rattlers, Appleton, WI
July 17 West Michigan White Caps, Comstock Park, MI
July 24 Schaumburg Boomers, Schaumburg, IL
July 31 Omaha Storm Chasers, Omaha, NE
August 7 Salt Lake Bees, Salt Lake City, UT
August 12 Fresno Grizzlies, Fresno, CA
August 13 Sacramento River Cats, Sacramento, CA
August 15 Hillsboro Hops, Hillsboro, OR