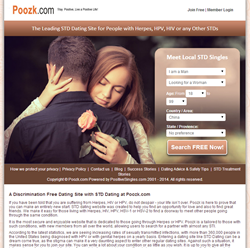 An Online Dating Site for People with Herpes, HIV, HPV or any Other STDs!
Los Angeles, California, USA (PRWEB) May 06, 2014
Poozk.com is a new STD dating site for people with Herpes, HIV, HPV and any other STD, to find support, romance in a place free of discrimination. As the mission statement of Poozk it says: "A Discrimination Free Dating Site with STD Dating!" So this site is launched for people who are suffering from STD and hope to find a place to meet new friends.
"I think Dating Advisor is the best feature on Poozk, as members can get help about their health condition, dating tips and even emotional problems from the advisor." said Derek, the founder of Poozk. "We really sadly to know more and more people are suffering from STD and can`t easily to get help from others. So here at Poozk, it provides an online community not only for seeking dating and love, but also giving a hand to people with STD."
Search by type of STD is another excellent feature, and it also a necessary feature to an STD dating site. Members can search by living with HSV-1, HSV-2, HIPV, HIV or any other STD after login. In this way, they can quickly find people who have the similar health condition.
Poozk offer 24 / 7 live and phone support for its members. All problems on this site that the members may have will be resolved in the first time.