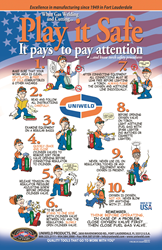 Quality Tools That Go To Work With You
Las Vegas, Nv (PRWEB) April 26, 2014
As a trade show that caters to educators, attendees included HVACR educators, school administrators, JATC instructors, wholesaler trainers, utility trainers, contractors who provide training, manufacturers, and others interested in learning about new technologies, the 2014 National Educators and Trainers Conference in Las Vegas was a true success. Uniweld was proud to display several of its newest products at the event, including the EZ Turn™ Anti-Blowback Hose and the NitroVue™ Nitrogen Flow Indicator.
The EZ Turn™ Hose has a thrust bearing design that allows the technician to quickly and easily connect the service hose to an access fitting while under pressure. Uniweld gave away 50 EZ Turn™ Hoses at the conference to the first 50 booth visitors in order to spread the word of this innovative new tool. The NitroVue™ Nitrogen Flow Indicator works in line with the nitrogen regulator and gives the contractor the control to flow nitrogen at 3-5 SCFH. This is critically important during the brazing process because it will displace all the oxygen present in the tube and prevent oxidation.
In addition to showing new technologies, Uniweld provided trade school instructors with safety posters as an effort to promote safety in classrooms. Uniweld recognizes the importance of safety and awareness in the industry and puts forth its best effort to promote it. The poster outlines the fundamental safety procedures that should be followed when working with flame tools both in the classroom and in the field. The Uniweld team was grateful to be a part of the 2014 National HVACR Educators and Trainers Conference and wishes success to the future generations of HVACR educators and technicians.