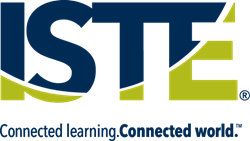 Washington, D.C. (PRWEB) April 24, 2014
Capturing and retaining students' attention in today's technology-driven, fast-paced environment is a challenge every teacher faces. A new book from the International Society for Technology in Education (ISTE®) offers teachers dozens of creative activity ideas using a wide range of technologies to help them redefine literacy instruction for today's digital world.
"Teaching Literacy in the Digital Age: Inspiration for All Levels and Literacies," edited by Mark Gura, features practices that represent important trends in technology-supported literacy instruction, and covers topics including storytelling, story analysis, report writing, persuasive writing, literature discussion, vocabulary development and more. Contributed by 23 literacy specialists and other expert teachers across the curriculum, the book's activities are tagged with recommended grade levels, main technologies used and literacy skills covered. Activities are aligned to the ISTE Standards for Students and the Common Core State Standards and most can be easily adapted for any grade level as well as for students with special needs and English language learners.
Activities range from podcasting in foreign language class and creating a graphic novel to crafting an argumentative essay and producing a digital television news program. Technologies integrated into the lessons include social networking, blogging, podcasting, digital audio and video tools, digital games, online animation and comic creation tools and various Web 2.0 tools.
An educator for more than three decades, the book's editor, Mark Gura, is the former director of instructional technology for the New York City Department of Education where he developed and administered the first citywide instructional technology program. He began his career as a teacher, spending 18 years in elementary and middle school classrooms in Harlem. More recently, Gura taught graduate education courses at Fordham University, Touro College, and New York Institute of Technology. He has written extensively on education for the "New York Daily News," "Converge" and a variety of other education magazines and has written and published numerous books on education, including "Getting Started with LEGO Robotics" (ISTE, 2011), and "Visual Arts Units for All Levels" (ISTE, 2008).
"Teaching Literacy in the Digital Age: Inspiration for All Levels and Literacies"
Edited by Mark Gura
ISBN: 9781564843395
ISTE Member Price: $17.47; Nonmember Price: $24.95
About ISTE
The International Society for Technology in Education (ISTE®) is the premier nonprofit organization serving educators and education leaders committed to empowering connected learners in a connected world. ISTE serves more than 100,000 education stakeholders throughout the world.
ISTE's innovative offerings include the ISTE Conference and Expo — one of the biggest, most comprehensive ed tech events — as well as the widely adopted ISTE Standards for learning, teaching and leading in the digital age and a robust suite of professional learning resources, including webinars, online courses, consulting services for schools and districts, books, and peer-reviewed journals and publications. For more information, visit iste.org. Connect with ISTE via Twitter, Facebook and LinkedIn.
For more information or a review copy, media only:
Lisa Wolfe, L. Wolfe Communications, 773-278-2800, lwolfe(at)lwolfe(dot)com