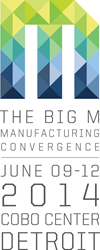 THE BIG M is a place for industry leaders to share and develop ideas about the future of manufacturing.
Dearborn, MI (PRWEB) April 25, 2014
Automation Alley's MSV Innovation Factory will feature an interactive display highlighting the latest technology from cutting-edge companies at THE BIG M Event, coming June 9 to 12 at Detroit's Cobo Center.
MSV, which stands for modeling, simulation and visualization are tools and techniques revolutionizing virtually every industry by changing the way people do business. High-end visualization to process simulation has had an impact on disparate fields ranging from vehicle concepts to fashion designs.
The MSV Innovation Factory will be a cornerstone of THE BIG M Event. Kelly Kozlowski, Automation Alley's director of public affairs, said space in the labs will be devoted to ground-breaking local enterprises.
"We are looking to showcase companies that have what we call the 'wow factor' when it comes to this kind of technology," said Kozlowski. "Companies in southeast Michigan are doing exciting things with simulation, modeling and visualization or 3-D printing technology, and attendees can get an idea of what's already happening here in the region."
The Automation Alley display at THE BIG M — MSV Innovation Factory — will feature interactive displays from Altair, Autodesk and Design Interactive, Inc., highlighting each company's cutting-edge technology.
"Autodesk will demonstrate a fully immersive factory floor virtual environment — a technology which enables engineers and operations managers to identify improvements early in a manufacturing project," said Ed Martin Sr., manager, Manufacturing Industry Marketing, Autodesk. "This is only one example of the many ways in which advanced design, simulation and visualization technology helps Autodesk customers solve real-world challenges."
At THE BIG M, attendees will converge to see the latest advanced manufacturing technologies, engage in thought-provoking conversations and discuss real solutions to industry challenges – all in downtown Detroit.
"THE BIG M is a place for industry leaders to share and develop ideas about the future of manufacturing," said Christine Longroy, event manager at SME. "We have developed a truly comprehensive program that connects industry, technology and processes. Many small and mid-sized manufacturers don't always have access to the newest technology thus will benefit from attending this event."
The MSV design factory will allow manufacturers to get a glimpse of the industry's future and witness technology's impact on how products will be manufactured. "This technology dramatically changes how we create and produce products. What this technology allows us to do is to create, engineer and manufacture the product digitally," said Michael Grieves, Ph.D. of Florida Institute of Technology who works closely with Automation Alley on the MSV factory.
"This event is basically going to be a game-changer for manufacturers, in that they will be able to learn how to use these digital capabilities to reduce their costs and be more efficient," said Grieves. "The key is bringing them up to speed and to allow them to do it from a remotes basis, as opposed to having to spend a lot of money on a very expensive infrastructure. We are working with Automation Alley on some mechanisms so that it's most affordable and effective for small to medium-sized manufacturers."
To learn more about THE BIG M, view full conference and exhibit details or register for any of the event's offerings, visit http://www.BigMEvent.com.
About THE BIG M
THE BIG M initiative is years in the making—designed to convene manufacturers around industry's most vital issues and leverage the power of industry leaders to collaborate and address them. This event demonstrates that manufacturing professionals and companies can shape the future by creating a strong path forward together, connecting people with technology and expertise, affirming the importance of manufacturing, speaking in a unified voice to policy makers, and proving that manufacturing is a knowledge industry where creativity is sought and valued.
Highlights will include Innovation Factories featuring live presentations of the latest technologies; exhibit floor "tech talks"; and Q&A sessions with industry experts who will provide the knowledge and insight manufacturers need most. Featured technologies include smart manufacturing, modeling and simulation, digital manufacturing, advanced materials and lightweighting, cybersecurity and more. THE BIG M is the umbrella pulling together several co-located events including: SME's RAPID Conference & Exposition, the North American Manufacturing Research Conference, the ISA Cybersecurity Conference and the MMTC Proud to Manufacture in Michigan Conference.
About SME
SME connects all those who are passionate about making things that improve our world. As a nonprofit organization, SME has served practitioners, companies, educators, government and communities across the manufacturing spectrum for more than 80 years. Through its strategic areas of events, media, membership, training and development, and the SME Education Foundation, SME is uniquely dedicated to advancing manufacturing by addressing both knowledge and skill needs for the industry. Follow @sme_mfg on Twitter or facebook.com/smemfg.