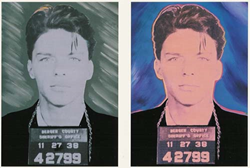 Beverly Hills, CA (PRWEB) April 24, 2014
A chance to own a piece of Warhol on canvas for under six figures could now be a reality. Dessler Media is selling a set of Frank Sinatra Mugshot paintings to raise money for the Dessler Foundation Against Teen Pregnancy. The suite was done by Andy Warhol assistant Steve Kaufman, who was rumoured to be the one who actually did over 60% of Warhol's paintings and prints. The set that once hung on the wall of the saloon on board the mega yacht of the media tycoon Willem Dessler is being sold for $20,000 to raise money for Dessler's foundation. For more information please contact the Dessler Foundation at 310 498-9303 or by email at foundation(at)desslermedia(dot)com.
On February 12, 2010, the world lost Steve Alan Kaufman, one of the greatest American pop artists and a generous humanitarian. Steve Kaufman, former assistant to Andy Warhol, passed away at the young age of 49. His memory, as well as his paintings, will live on forever. From his warm smile and generous heart, to his ability to tell a great story and his incredible knack of making every day an adventure filled with humor, drama, and laughter - Steve Kaufman was a legend.
Kaufman's paintings have skyrocketed in price since his death. His paintings have found their way into the homes and hearts of so many, capturing the true American pop art experience. Steve Kaufman painted such timeless pieces such as: Coca Cola, Marilyn Monroe, Mozart, Beethoven, Wizard of Oz, Muhammad Ali, his money series, and his paintings of famous singers, actors and icons. His audience is vast and large, and his contribution to society was enormous. Steve Kaufman launched and operated the "Give Kids a Break Fund," a successful charity which helped inner city kids from troubled homes or straight from jail. Steve Kaufman gave these kids a job and his trust when no one else would, allowing them opportunities that they would have never had. Steve Kaufman lived for forty nine years, and in that time, he lived the life of 10 men. He will be so painfully missed, but his art will live forever. Steve Kaufman's paintings have been exhibited in many museums including The Andy Warhol Museum of Modern Art in Slovakia; the Reiss-Engelhorn Museum in Mannheim, Germany; The Museum of Contemporary Art in Hot Springs, AR; The Motown Historical Museum in Detroit, MI; the Blues & Legends Hall of Fame Museum in Memphis,TN; The American Sport Art Museum & Archives in Daphne, AL; The Pop Culture Gallery at The World of Coca-Cola in Atlanta, GA; Sala U. Veruda, Palazzo Costanzi in Trieste, Italy; The Palazzo Guiscardo in Pietrasanta, Italy; Museum of Passion in Valladolid, Spain; Marcos Valcarcel Cultural Center in Galicia, Spain and running from November 21, 2013 through May 6, 2014 a grand exhibition in the House of Enzo Ferrari Museum in Modena, Italy. Steve Kaufman's paintings are also in two presidential libraries.