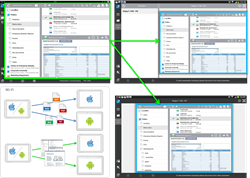 Moscow, Russia (PRWEB) April 30, 2014
Direct File & Screen Sharing™ features, expanded within the updated MobileSputnik 1.7 by MobilityLab company, provide business users with advanced capabilities for just-in-time collaborative work within wireless networks with usage of the leading AllSeen Alliance Framework/Qualcomm AllJoyn system technologies. Direct Screen Sharing tools enable to use Wi-Fi (external or running on a mobile device) anytime and anywhere to display instantly and safety documents and broadcast them from one to many iOS or Android tablets.
MobileSputnik Direct File & Screen Sharing™ cross-platform capabilities are unique on worldwide enterprise mobility market and reaffirm MobileSputnik technology leadership in collaborative mobile work. The MobileSputnik embedded full-featured office suite, easy navigation through Windows and SharePoint file resources, possibility of offline mode, multiscreen user interface to open and view different documents – all of that tools give MobileSputnik the unique position among enterprise mobility solutions.
"Direct cross platform screen sharing of public documents between tablets together with capabilities of cross platform direct file sharing provide the unique environment for collaborative work," said Sergey Orlik, Managing Director of MobilityLab. "We are the first again on the worldwide market who can provide our customers with innovations increasing productivity and setting a new standard of requirements for enterprise-grade mobile solutions."
MobileSputnik 1.7 mobile clients are available from Apple AppStore, Google Play, Samsung Apps, and Amazon Kindle Apps markets.
For more details about the product and for a trial version visit http://www.mobilesputnik.com/.
About MobilityLab
MobilityLab was founded in 2011 with one of the oldest and leading Russian information technology and system integration organizations, the I.T. Group of companies. MobilityLab is an independent software vendor focused on developing the next generation out-of-the-box enterprise mobility solution – MobileSputnik. MobilityLab has been a resident of the SKOLKOVO IT Cluster since 2012.