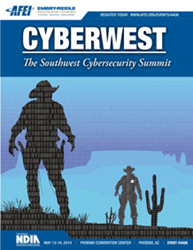 "This is a great venue for sharing ideas with leaders in government, industry and academia on one of the critical topics facing the U.S. today. Where are the trained cyber workers of tomorrow and what do they need to know?"
Arlington, VA (PRWEB) April 28, 2014
The Association for Enterprise Information (AFEI) has announced that it will be co-hosting CYBERWEST, an event featuring Homeland Security, NIST and industry leaders sharing information and insights on regulations, legislation and needed technology improvements to boost cybersecurity across the nation in the wake of the Target and Snowden incidents. AFEI has partnered with the Embry-Riddle College of Security and Intelligence, ACTRA and Arizona InfraGard to host this first-ever Southwest Cybersecurity Summit to be held May 13-14, 2014, in Phoenix, Arizona.
"This program stands out as unique from all other cyber events," said Dave Chesebrough, President of AFEI. "We have brought together the national perspective of DHS, NIST and CYBERCOM with the local concerns and focus of the Arizona Cyber Threat Response Alliance and the FBI Arizona InfraGard to look ahead at how we build better security and resilience into our enterprises, both government and business."
CYBERWEST offers one of the first opportunities to examine how organizations are using the NIST Cybersecurity Framework to identify, assess and manage cybersecurity risk. The program also presents HSARPA Cyber Research and Development opportunities that are focused on quickly transitioning advanced solutions into business use. The implication of cybersecurity for Federal Government contracts and the economic, business valuation and insurance impacts are also being discussed.
"This is a great venue for sharing ideas with leaders in government, industry and academia on one of the critical topics facing the U.S. today," said Dr. Jon C. Haass, Associate Professor and Director of Cyber Intelligence and Security at Embry-Riddle Aeronautical University in Prescott, Arizona. "Where are the trained cyber workers of tomorrow and what do they need to know?"
For more information on this event or to register, visit http://www.afei.org/events/4A06.
About AFEI:
AFEI is an industry association advancing the state of practice for the sharing, integration, management and protection of information across extended enterprises through trusted collaboration between Government and industry, with a focus on national security and defense issues. AFEI (http://www.afei.org) is an affiliate subsidiary of the National Defense Industrial Association (NDIA) (http://www.ndia.org), America's leading defense industry association promoting national security.
About Embry-Riddle Aeronautical University:
Embry-Riddle Aeronautical University, the world's largest, fully accredited university specializing in aviation and aerospace, is a nonprofit, independent institution offering more than 70 baccalaureate, master's and Ph.D. degree programs in its colleges of Arts and Sciences, Aviation, Business and Engineering. Embry-Riddle educates students at residential campuses in Daytona Beach, FL., and Prescott, AZ., and through the Worldwide Campus with more than 150 locations in the United States, Europe, Asia, and the Middle East. The university is a major research center, seeking solutions to real-world problems in partnership with the aerospace industry, other universities and government agencies. For more information, visit http://www.embryriddle.edu, follow us on Twitter (@EmbryRiddle) and facebook.com/EmbryRiddleUniversity, and find expert videos at YouTube.com/EmbryRiddleUniv.