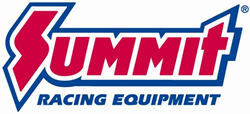 Tallmadge, OH (PRWEB) April 28, 2014
Summit Racing carries Classic Performance brake, suspension, and steering components because Classic makes darn near everything needed to upgrade popular American cars and pickups from the 1930s through the 1970s. Summit Racing has added a bunch of new Classic Performance parts to its inventory including these:
ALUMINUM GAS TANKS FOR 1955-57 CHEVY AND 1947-72 CHEVY/GMC TRUCK
The Classic Performance aluminum gas tanks are designed for carbureted or EFI applications. The fully baffled tanks fit between the frame rails and are notched for leaf spring clearance. You don't even need to remove any crossmembers to slide a tank in place. For truck applications, the fuel filler can be accessed through the bed floor or through a custom side panel. Sending units are sold separately.
IFS FRONT END PACKAGE FOR 1929-31 FORD
Get the handling and ride comfort of an independent front suspension for a street rod Model A. The Classic Performance IFS Front End Package comes with a one-piece suspension crossmember; caster and camber is adjusted by means of an eccentric. The kits comes with forged steel spindles, tubular upper and lower control arms with polyurethane bushings, a new manual rack and pinion steering unit with tie rod ends, adjustable billet coil-over shocks with black powdercoated springs, and a disc brake kit with 11 inch solid discs and GM-style calipers. Wheel bolt pattern is 5 x 4.5. The IFS Front End Package is designed for V8 engine conversions.
FRONT END SUBFRAME KIT FOR 1962-67 CHEVY II/NOVA
Nova owners can dump the clunky stock suspension and replace it with this Classic Performance Front Subframe Kit. It swaps the factory strut rods for adjustable control arms to improve steering response, high-speed stability, and adds over two inches of ground clearance. Eliminating the strut rods also allows proper wheel alignment without the use of an additional "lockout plate." The kit has a unique one-piece steel crossmember that bolts to the factory strut rod locations and ties both frame rails together—no cutting or welding required.
The Classic Performance Front Subframe Kit comes with tubular steel upper and lower control arms with premium ball joints, alignment cam kits, low-friction pivot bushings, and mounting hardware. It can accommodate both factory and aftermarket sway bars with up to one inch in diameter, plus manual and power steering including rack and pinion systems. Kits are available with coil springs and as a complete package with disc brakes, manual rack and pinion, and motor mounts.
SEE ALL CLASSIC PERFORMANCE PRODUCTS AT SUMMIT RACING
Summit Racing Equipment
http://www.SummitRacing.com
1-800-230-3030