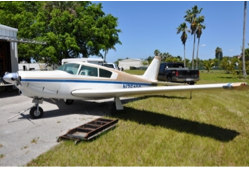 Miami, FL (PRWEB) April 25, 2014
Higgenbotham Auctioneers International (HAI) is excited to announce its upcoming auction of airplanes, aviation equipment, tools & more on Tuesday, April 29th at 11AM in Miami, FL. Bids will be taken live on-site at 18390 SW 158th Street, Miami, FL 33187 in Lindbergh's Landing (a gated community), as well as online at higgenbotham.com.
Up for auction, customers will find:
(1) Aeronca 65 TAC
S/N C3472TA N-84AH
Continental 0470-: Engine
Sensenich Prop (74CK-2-40)
(1) 1961 Piper
Model PA 24 250
S/N 24-2711
Avco Lycoming 0540D Engine (440 hours since factory manufacture)
(1) 1957 Cessna 182A - Featured in multiple publications, including Cessna Pilots Association Magazine & Private Air Magazine
S/N 34248
Continental 0470-L Engine
New Slick Mags
(3) Partial, Unassembled Stearman Kits
(3) 220 Continental Engines - (2) W670-6N & (1) W670-6A
S/Ns 25312, 27828, 6377
0 Hours SMOH on ALL ENGINES.
Additional inventory includes Snap-On and Craftsman tools, air compressors, sand blasting equipment, a variety of nuts, bolts, & screws, rivets, torches, drills, screw guns, grinders, saws, jacks, Porta-Power, vises, a drill press, shelving, a generator, creepers, rolling carts, hand carts, toolboxes, filing cabinets, and much, much more.
These items are offered by the Estate of local businessman, Abel Hera, Jr. Mr. Hera was the proprietor of Abel's Flying Services, Inc. of Miami. In 1960, Hera and his family were able to escape Fidel Castro, Communist Cuba, and their potential incarceration - or worse, death - using the 1957 Cessna 182A airplane that is available for purchase at this auction.
To learn more about this auction, visit higgenbotham.com or call 800-257-4161. Registration for online bidding is now open.
About Higgenbotham Auctioneers International
Founded in 1959, Higgenbotham Auctioneers is headquartered in Lakeland, Florida and specializes in the auction method of marketing.
Higgenbotham is an alliance partner of NAI Global and enjoys continuing relationships with Fortune 500 clients such as Alcoa, International Paper, Wal-Mart Realty, and Sinclair Oil, as well as many publicly traded and closely held companies.