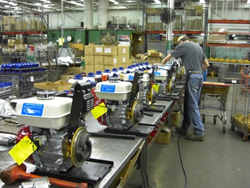 Pumps are the second most common machines used by all industries behind electric motors.
Royersford, PA (PRWEB) April 29, 2014
A leading online distributor of commercial and industrial pumps is expanding their footprint. WeGotPumps.com has opened new offices in Utah and New Hampshire.
"We are excited about the opportunity to extend our reach into these growing markets," says Chris Anderson, president of WeGotPumps.com. "We are positioning ourselves to better serve our customers across the United States."
According to a recent report by the Gale Group, commercial pumps represent a $12 billion industry in the U.S. and it is growing. Pumps are the second most common machines used by all industries behind electric motors. As the general health of the U.S. industry improves, so does the number of pumps being manufactured and sold.
Anderson attributes the growth of WeGotPumps.com to their huge selection, expert service and unbeatable prices. "The bulk of the growth we are seeing is tied to replacement purchases. Because we represent so many manufacturers and have access to an array of pumps and equipment, we are able to help our customers find the best solution for their application, at a price that's unbeatable, and it's usually a more efficient than solution what they've been using."
WeGotPumps.com boasts $10 million worth of inventory in stock and ready to be shipped, including all types of commercial and industrial pumps: engine driven pumps, dewatering pumps, sewage and trash pumps, high pressure pumps, centrifugal pumps and more.
WeGotPumps.com sells pumps from leading manufacturers including AMT, Gusher, All-Flo, Goulds, Fulflo, IPT and more.
# # #
For more information on WeGotPumps.com contact:
Dan Clark or Chris Anderson
888-817-8677
wegotpumps.com
For more than 25 years engineers at WeGotPumps.com have worked with the largest distributors of pumps in the United States to deliver customized solutions to companies large and small.