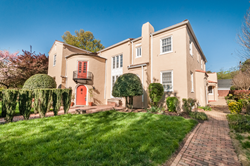 This is the first opportunity to purchase this home in nearly 30 years, and is one of only 13 houses in the Byrd Park neighborhood.
Richmond, VA (PRWEB) April 26, 2014
Richmond, Va. real estate broker Chris Small just listed the classic California-mission style house located at 804 Westover Rd. overlooking Shields Lake. This 5,,000 square foot property has an in-ground pool, four bedrooms, four full baths and two half baths. It is offered for $879,950. This is the first time this home has been available in over 30 years, and is one of only a few houses in Richmond's Byrd Park.
Built for the Kauffman family in 1922, 804 Westover Road is one of five houses designed by well-known Richmond architect Otis Asbury in the neighborhood. The Byrd Park area will be featured in the Historic Garden Week tour presented by the Garden Club of Virginia Wednesday April 30th, 2014.
The original design of this beautiful house included a large garden originally planned by Richmond landscape architect Charles Gillette. While the brick walled garden has since seen changes over the years, it now includes a beautiful in-ground pool and the original walks and terraces.
Additional noteworthy features that Asbury incorporated in the design of the home include a charming curved staircase, detailed wrought ironwork, numerous outdoor living spaces, floor to ceiling windows, a wet bar, round, informal dining room, and an impressive two-story foyer with stone finish walls and a curved ceiling.
In addition to his work in the Byrd Park neighborhood, Asbury also designed houses on historic Monument Ave.
Throughout Byrd Park there are other exquisite properties by well-known architects of the early 20th century. Many houses in the Byrd Park neighborhood sell for over a million dollars in today's market.
More information is available at http://www.smallrealestate.com. If interested in this property, contact Chris Small at chris(at)smallrealestate(dot)com.