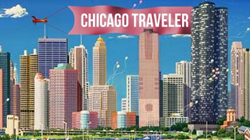 This winter has been colder than normal, and so everyone is pretty excited about the upcoming warm weather. May is full of fun activities; from Cinco de Mayo festivities to parades and festivals.
Chicago, IL (PRWEB) April 28, 2014
Now that the freezing weather is in the past it's time to celebrate May in Chicago. Spring in Chicago is full of activities; from festivals to holidays such as Mother's Day and Memorial Day. Today, ChicagoTraveler.com (http://www.chicagotraveler.com), an authority tourism site serving Chicago, announced its list of best things to do this May 2014 in Chicago.
"This winter has been colder than normal, and so everyone is pretty excited about the upcoming warm weather," explains Lindsey Skinner, senior editor at ChicagoTraveler.com. "May is full of fun activities; from Cinco de Mayo festivities to parades and festivals."
Enjoy all the excitement this May and use this activity list to plan what to do. For a full list of upcoming events in Chicago use the Chicago Traveler Events Calendar.
1.) Chicago Antique Market - May 24 - 25
Looking to go home with some antique treasures? The Chicago Antique Market boasts the best treasures around, from beautiful glassware to collectible cameras. Plus, it was voted one of the top 3 national urban antique markets by Travel & Leisure - can't beat that! Market goes on from 10am-5pm both days.
2.) Cinco de Mayo in Chicago - May 2-4
Grab the tequila and celebrate everything that is Mexican. Grab the sombrero and head to Festival Cinco de Mayo, taking place at the Little Village neighborhood, is going on the weekend before the real holiday (May 5). Friday the festival is going on from 6pm-11pm, and Saturday & Sunday from 2pm-11pm.
3.) Chicago Critics Film Festival - May 9 - 15
The 2nd annual Chicago Critics Film Festival is going on this May, and includes interesting films from comedies and foreign dramas to a zombie epic. The festival will be held at Chicago's historic Music Box Theatre, and tickets are on sale now.
4.) Mother's Day in Chicago - May 11
What better way to celebrate Mother's Day than take mom out on a Mother's Day brunch or dinner cruise aboard the Odyssey. This elegant charter offers complimentary glass of champagne, a rose for each mother, and a delicious brunch and dinner menu. For a limited time moms cruise free, so don't wait to buy tickets! Find the best hotels for Mother's Day at http://www.chicagotraveler.com/chicago-hotels.htm.
5.) Chicago Craft Beer Week - May 15 - 25
If only we could live off beer rather than water, the world would be a better place. Luckily, this is possible for one week during Chicago's Craft Beer Week. Enjoy tasty suds all around Chicago and be safe!
6.) Chicago Mayfest - May 16 - 18
Celebrate the warm weather this May at Mayfest street festival. This 3-day festival starts the season of festivities in the Windy City - and goes on rain or shine. The weekend includes delicious food, tasty beer, and incredible entertainment (including Chicago native bands). Festival takes place in Lakeview, at N Ashland Ave at Barry. Admission is $10.
7.) Memorial Day Parade - May 24
Show support for the soldiers who fight for the county at Chicago's Memorial Day celebration and parade. The Windy City boasts one of the largest Memorial day parades in the country, so come and join the celebration starting at 11am, with the parade starting at noon. Parade is on State St., from Lake St. to Van Buren. Admission is free. More information here: http://www.chicagotraveler.com/memorial-day-parade-chicago.
8.) Do Division Street Fest - May 30 - June 1
Back for year 8, Do Division Street Fest brings the best independent retailers, artisans, and rocking music to the famous Division Street. The festival takes places on (you guessed it) Division Street, from Damen to Leavitt. Enjoy Family Fun Fest, Do Fashion Fest, and the Sidewalk Sale. Donation request is $5.
9.) Boat Cruise in Chicago - Warm weather
Warm weather means it's time to get out on a Chicago boat tour - whether it's an elegant cruise aboard the Odyssey, or an informative architecture tour from the Chicago Architecture Foundation. For use the ChicagoTraveler.com list of top boat tours in Chicago.
10.) Chicago Food Tours - Warm weather
Chow down on one of Chicago's famous food tours. Not only are food tours a great way to sample the specials of the Windy City, they are also a perfect way to enjoy the good May weather. Get outside and explore the city by tasting the treats Chicago is known for. Find a full list of Chicago food tours here: http://www.chicagotraveler.com/food-tours-chicago.htm.
Transportation hint: For all the fun events coming up Chicago travelers will need to find a way to get around… especially because parking is no fun. Use Suburban Rides for all transportation needs! Their cars are clean, drivers respectful and efficient, and their rates are unbeatable! Call for a quote: 630 621 3355.
About ChicagoTraveler.com:
Chicago is one of the top vacation destinations in America famous for its unique character, annual events, popular foods, and architecture top sports teams. ChicagoTraveler.com guides travelers to all the best things to do, top places to eat and deals on the best places to stay in Chicago.