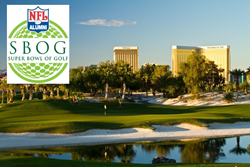 The Super Bowl of Golf helps build awareness for charitable causes that meet NFL Alumni goals
Las Vegas, NV (PRWEB) April 25, 2014
The NFL Alumni Association is having their annual "Super Bowl of Golf" at Bali Hai Golf Club in Las Vegas. The event pits the best golf teams from local NFL Alumni Chapters from around the country in an 18 hole golf tournament. Each team is captained by a NFL Alumni Member including Pro Football Hall of Famers Carl Eller, Raul Allegre, Ottis "O.J." Anderson, and Ricky Ervins.
The Super Bowl of Golf helps build awareness for charitable causes that meet NFL Alumni goals of "Caring for Kids" and "Caring for Our Own". The tournament has taken place every year since 1980 and alternates between East and West coast venues, this year being in the West at Las Vegas's Bali Hai Golf Club.
Bali Hai Golf Club is a public golf course situated on the south end of the Las Vegas Strip and one of three golf clubs owned and operated by Walters Golf. The course is a par 71 with 7,002 yards of play from the tips, has a 73.0 rating and a 130 slope. The course is known for its proximity to major Las Vegas Hotels, and for replicating a South Pacific ambiance with 1000s of palm trees, white sand and undulating fairways.
Participants compete to win the Super Bowl of Golf Championship ring that emulates real Super Bowl victory rings, and is created by Jostens. The ring is awarded at the after tournament luncheon on site at Cili, Bali Hai's restaurant and event venue.