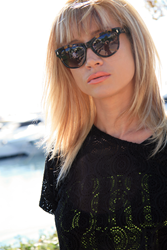 Custom made eyewear is now an affordable luxury
New York, NY (PRWEB) April 29, 2014
ATELIER® is the first luxury eyewear brand to offer competitively priced custom optical and sunglasses online.
Currently, custom eyewear manufacturers rely on a network of opticians to measure custom fits and sell their products. Ordering custom eyewear from ATELIER® is done completely online using the company's revolutionary proprietary facial measurement software.
Visitors to the ATELIER® website (http://www.ateliereyewear.com) get to customize the color of their eyeglass frames and lenses and see the result in a virtual mirror.
"Most glasses come in one size, so almost nobody has glasses that fit them properly. Our unique measurement system and individual handcrafting ensure a much more precise fit than off the shelf designs", commented Tim de Rosen the brand's co-founder.
Frames are handmade one by one in the company's workshops using the highest quality materials and are personalized with the customer's name or initials engraved on the inside of their frame.
ATELIER® offers an extensive range of heritage inspired frames for men and women with a choice of elegant materials and design options.
Prices start at $325 including high-index prescription lenses or Carl Zeiss sun lenses and free delivery. Similar quality custom eyewear can cost up to a thousand dollars or more.
"This is a significant breakthrough for luxury eyewear. By controlling all aspects of production and selling online we are able to offer custom eyewear for the same price as standard high-end eyeglasses. Custom eyewear is now an affordable luxury", said de Rosen.
For more information contact: Tim de Rosen, CEO:
(USA) 1-877-416-3191
info(at)ateliereyewear(dot)com