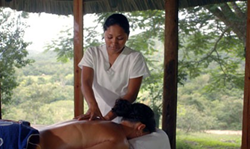 "It shows that Belize's green eco resorts and spas are finally gaining the worldwide recognition they deserve."
San Ignacio, Belize (PRWEB) April 29, 2014
The Lodge at Chaa Creek's Hilltop Spa was recently selected as one of the world's top ten spas for value by the Gayot Guide.
Hilltop Spa manager Bryony Fleming Bradley said "Being recognised by such a respected international guide as Gayot, and included in this list of outstanding spas from around the world, proves that you can be environmentally sustainable and still provide quality and value.
"It shows that Belize's green eco resorts and spas are finally gaining the worldwide recognition they deserve," she added.
Ms. Fleming Bradley said that Chaa Creek is responding to the news by offering a 10% discount off its Wellness Retreat package that offers spa treatments as part of an integrated holiday focussed on health and wellbeing.
"We want to introduce the concept of healthy holidays in Belize by making them even more affordable, so we're offering the 10% discount from now until the Summer Solstice week of June 21st, when we're hosting a special Wellness Retreat. It's also our way of celebrating the Gayot recognition," she added.
Gayot, "The guide to the Good Life" is described by the Huffington Post as, "an internationally renowned and professional guide to dining, hotels, travel and lifestyle, including spas, movies and automobiles, for readers in search of the best across the world.
"GAYOT.com serves as a serious resource, providing timeless coverage while keeping pace with the latest trends," it continued.
The most recent "Lifestyle" section of Gayot.com carries a feature on "The Best Budget Spas" with the introduction that; "Most spa treatments aren't exactly easy on the wallet. But we were able to scout some superb locations around the world where massages and more are pretty affordable… From Bali to India to Los Angeles, the following ten spa escapes are right on the money."
The Hilltop Spa at Chaa Creek was included in the list of the top ten, along with other spas in Laos, Hawaii, Ecuador, Bali, USA, Croatia, Thailand, and India.
In describing the Chaa Creek Spa Gayot noted; "The Lodge at Chaa Creek prides itself on being a true eco lodge, 100 percent devoted to green, sustainable tourism… the environment is priceless: al fresco pampering with views of the rainforest, a musical backdrop of tropical birds and a spa that is decorated with fresh flowers every day."
Ms. Fleming Bradley said that Belize's close proximity to North America makes the Chaa Creek Spa even greater value for guests from the US and Canada.
"We've worked hard to design an all-inclusive Wellness Retreat package that was both affordable and comprehensive. And now, with the 10% discount, our spa offers even greater value while maintaining a high level of quality and service," she said.
Ms. Fleming Bradley also said that as Chaa Creek is located in the heartland of the ancient Maya civilisation where cacao was, and still is considered to be a sacred beverage and medicinal plant essential to good health, the Hilltop Spa uses cacao in unique chocolate body wraps, their signature "Chocolatissimo" and other treatments.
"We're fortunate in being able to integrate ancient Maya techniques with more familiar spa treatments and products. And we do this in a spectacular setting in the foothills of Belize's Maya Mountains. It's a combination that has always set us apart.
"And now, being recognised as providing great values as well by such a trusted source as a Gayot is icing on the cake," she added.
The Hilltop Spa is one of the amenities offered at Chaa Creek, Belize's first eco resort located within a 365 acre private rainforest nature reserve along the banks of the Macal River. It was formerly a family farm owned by Mick and Lucy Fleming, who opened Chaa Creek as a green eco resort in 1981. It has since grown to be one of Belize's most well-known and highly awarded travel destinations while maintaining a focus on environmental sustainability and responsible travel.
Ms. Fleming Bradley said that Chaa Creek is now accepting bookings for the Summer Solstice Wellness Retreat 2014, and that any bookings made for it and any all-inclusive Wellness package between now and June 21 2014 will attract the 10% discount.
"The fact that we were selected as one of the world's top ten spas for value was so satisfying, and now this additional 10% off of the entire package makes Wellness a truly great deal. It's something we're very happy to be able to offer at such an affordable price," she said
The Lodge at Chaa Creek is an award winning eco resort set within a 365 acre private nature reserve in Belize.
ENDS