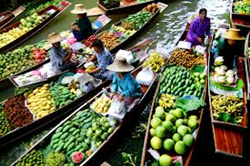 One day tour in Mekong Delta will be a truly remarkable experience that will stay with traveling lovers forever
Hanoi, Vietnam (PRWEB) April 29, 2014
Smile Travel Vietnam is proud to service clients from all of Vietnam and beyond in term of tourism. On the occasion of the upcoming national holiday, the company would like to give a discount of up to 25 % for 1 day trip to Mekong Delta, the region in southwestern Vietnam.
The Mekong Delta forms both the far southern region of Vietnam and one of country's two main rice bowls. Dominated by the Mekong River and its many tributaries, the surrounding lands are comprised of low lying rice paddies and the rivers are bordered by dense mangroves and palms. The tributaries of the hectic Mekong River highway provide a comprehensive network of canals and channels acting as on and off ramps to the main thoroughfare. For the traveler, these rivers and tributaries can be the best method to explore the Mekong Delta at a leisurely pace and offer the opportunity to experience the truly unique Mekong River lifestyle.
"Smile Travel Vietnam has designed this trip so that holiday makers can fully experience the traditional rural lifestyle of the Mekong Delta inhabitants. Hope one day tour in Mekong Delta will be a truly remarkable experience that will stay with traveling lovers forever."- said the senior tour designer.
According to the Chief Executive, 20 first customers will get a discount up to 25 % in the total of this trip. The price includes transportation, breakfast, lunch, travel guide fee. Last but not least, visitors will have chance to receive many nice gift at the end of itinerary.
All interested visitors should contact: sales(at)smiletravelvietnam(dot)com or call 84.976.127.023 for further details.
About Smile Travel Vietnam Company:
It was founded in 2008 and is located in the capital of Vietnam- Hanoi. The agency provides customers with the ability to negotiate the most competitive price for them, whether it's for airfares, cruises, coach travel, holiday packages, car rentals, hotel accommodation, travel insurance or any large or small item that is so important in making tourists travel experience, even more enjoyable.