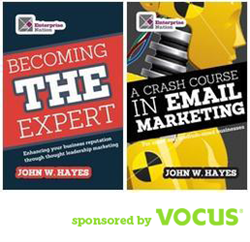 Find the inspiration to create and publish compelling content that potential clients and existing customers cannot ignore
London, UK (PRWEB UK) 29 April 2014
Vocus, Inc. (NASDAQ: VOCS), a leading provider of cloud-based marketing and public relations software, today announce that "The Content Marketing Boot Camp," a touring series of educational seminars, will visit Manchester on June 11, 2014.
Led by John W. Hayes, author of the bestselling content marketing book: "Becoming THE Expert – Enhancing Your Business Reputation through Thought Leadership Marketing," this full-day seminar will explain how small and medium-sized business owners and marketers can:

Find the inspiration to create and publish compelling content that potential clients and existing customers cannot ignore
Improve rankings on the major search engines
Generate leads, maintain relationships and sell more via email
Win local, national and global media coverage with well-placed PR campaigns
Engage prospects with social media
Shorten the sales cycle and reduce the need for cold calling techniques
Connect all the dots to build a cohesive content marketing strategy
Tickets are limited and available here.
"Content Marketing Boot Camp" will also be visiting London on May 14 and Leeds on May 15, 2014.
About Vocus
Vocus (NASDAQ: VOCS) provides leading cloud-based marketing and public relations software that enables companies to acquire and retain customers. The company offers products and services to help clients attract and engage prospects, nurture and convert customers, and measure and improve marketing effectiveness. More than 16,000 annual subscription customers across a wide variety of industries use Vocus software. The company is headquartered in Beltsville, MD with offices in North America, Europe and Asia. For more information, visit http://www.vocus.co.uk or call +44 (0)20 3426 4001.
Forward-Looking Statement
This release contains "forward-looking" statements that are made pursuant to the Safe Harbour provision of the Private Securities Litigation Reform Act of 1995. These statements are predictive in nature, that depend upon or refer to future events or conditions or that include words such as "may," "will," "expects," "projects," "anticipates," "estimates," "believes," "intends," "plans," "should," "seeks," and similar expressions. This press release contains forward-looking statements relating to, among other things, Vocus' expectations and assumptions concerning future financial performance. Forward-looking statements involve known and unknown risks and uncertainties that may cause actual future results to differ materially from those projected or contemplated in the forward-looking statements. Forward-looking statements may be significantly impacted by certain risks and uncertainties described in Vocus' filings with the Securities and Exchange Commission.
The risks and uncertainties referred to above include, but are not limited to, risks associated with possible fluctuations in our operating results and rate of growth, our history of operating losses, risks associated with acquisitions, including our ability to successfully integrate acquired businesses, risks associated with our foreign operations, interruptions or delays in our service or our web hosting, our business model, breach of our security measures, the emerging market in which we operate, our relatively limited operating history, our ability to hire, retain, and motivate our employees and manage our growth, competition, our ability to continue to release and gain customer acceptance of new and improved versions of our service, successful customer deployment and utilisation of our services, fluctuations in the number of shares outstanding, foreign currency exchange rates and interest rate.