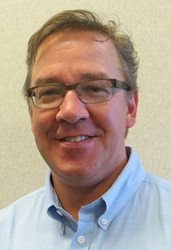 "Mark is a great addition to our strong Tampa team." -- John Downes, Florida Office Manager
Tampa, Florida (PRWEB) April 30, 2014
Mark Gillette, P.E., has joined Stanley Consultants as a Senior Drainage Engineer in the company's Tampa, Florida, office.
Gillette is well known in the Florida transportation market, with nearly 25 years of roadway, drainage, and traffic design experience on Florida Department of Transportation projects, as well as local government, private development, and water district projects. He also brings significant experience in signing, marking, and signalization design. In his new role he will support Stanley Consultants' growth initiatives in the transportation and municipal markets.
"Mark is a great addition to our strong Tampa team," said Florida Office Manager John Downes. "He is a very versatile engineer, accomplished in many areas, and his depth of knowledge and decades of experience will be a tremendous asset to our clients."
Stanley Consultants is a global consulting engineering firm with Florida offices in Tampa, West Palm Beach, Sarasota, and Miami. With a focus on water resources and transportation, the firm provides planning, engineering, structural and civil design, environmental/NEPA services, and construction management services for local, state, federal, and international clients. Located at 1228 East 7th Avenue, the Tampa office provides clients with a local presence, as well as access to the nationally recognized engineering firm's full spectrum of services.
The addition of Gillette's skills and experience will complement the existing staff of experienced professionals serving clients in the Tampa Bay area. Senior Project Manager Bob Szatynski, P.E., has a strong transportation background, with 29 years of experience planning and designing highways, bridges, and utility projects throughout Florida. Senior Project Manager Jeffrey Siewert, P.E., has over 30 years of civil engineering, transportation design, and project management experience with projects ranging from Florida Department of Transportation interstate/expressway designs to local municipal urban and rural highways, sidewalks, and trails.
Projects currently under way or recently completed by Stanley Consultants' Tampa Office include design of the Jackson Road in Sarasota County, the Honore Avenue and Richardson Road Roundabout, and intersection improvements at U.S. 41 at River Road, as well as design of the South Coast Highway in Jamaica.
In 2013, Stanley Consultants celebrated its 100th anniversary, making it a rarity in the consulting engineering world. It is ranked 75th in Engineering News-Record Magazine's annual rankings of the top 500 engineering firms in the nation.
#
About Stanley Consultants: Founded in 1913, Stanley Consultants is a global consulting engineering firm that provides program management, planning, engineering, environmental and construction services worldwide. Recognized for its commitment to client service and a passion to make a difference, Stanley Consultants brings global knowledge, experience and capabilities to serve clients in the energy, water, transportation and Federal markets. Since 1913, Stanley Consultants has successfully completed more than 25,000 engagements in all 50 states, U.S. territories, and in 103 countries. For more information on Stanley Consultants, please visit http://www.stanleyconsultants.com.