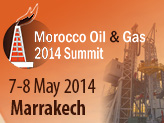 It's an IRN Summit!
London (PRWEB UK) 29 April 2014
Organised in partnership with the ONHYM, the senior level Summit will provide a unique opportunity to discuss the new key role of Morocco within the oil and gas sector, and evaluate the country's future energy potential with the national and international players of the energy industry. Amongst others, the Summit's senior level faculty of speakers includes the Ministry of Energy and Mines of Morocco; ONHYM's Senior Managers Amina Benkhadra, Mohamed Nahim, Wafae Benhammou and Abdellah Ait Salem. Other esteemed speakers include Rick Eisenberg, Africa and Latin America Frontier Exploration and Appraisal Manager at Chevron; Ben Conley, Morocco's Asset Manager at Cairn Energy; Rob Crossley, Chief Geologist at CGG; Duncan Wallace, Exploration Manager at Chariot Oil & Gas; Laurent Thery, Senior VP International Business Development at GDF Suez; Walid Sinno, Middle East & North Africa Director at San Leon Energy; Franck Le Baron, VP International Projects at Elengy; Ragnar Fredsted, Vice President of Morocco at Kosmos Energy; Mahdi Sajjad, President & CEO at Gulfsands Petroleum; Mike Hoffmann, Exploration Manager North Africa at Anadarko; Fabrice Fortin, Head of Gas and LNG Market Developments North Africa at Royal Dutch Shell; Paul Griffiths, Managing Director at Fastnet Oil & Gas, and Carl Atallah, Vice President and Country Manager at Chevron Morocco Exploration.
The Summit is sponsored by Chevron (Platinum Sponsor); by CGG and Anadarko (Gold Sponsors), as well as by Clifford Chance, Ernst & Young, Galp Energia, Dolphin Geophysical, GPS Intl, Repsol, PwC, Sotaserv, Lafarge, Sanad Assurance, Newpark, Jotun, Saham Assurance and Svenska. The event's exclusive Networking Reception (sponsored by Genel Energy) and Gala Dinner (sponsored by Gulfsands Petroleum) will provide two unique opportunities to speak with the key players of the Moroccan oil and gas scene, with a final Marrakech Farewell Night (sponsored by Kosmos Energy) to bring the elite two-day event to an end with more excellent networking opportunities.
In addition, IRN will organise a press conference in the afternoon of the first day of the Summit and would like to invite national and international journalists to attend. If interested, please contact Lola Bourget at LolaB(at)irn-international(dot)com with your details.
For more information about the Summit, its delegation, speakers, the themes covered and networking opportunities, visit the website: http://www.moroccosummit.com.