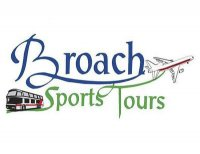 This is one of our favorite trips all summer.
Charlotte, N.C. (PRWEB) April 29, 2014
Broach Sports Tours is offering a $200 per person discount on its 2014 Classic Northeast Baseball Tour for all fans booking with a 10 percent deposit by May 15.
The Classic Northeast tour has been a staple of Broach's baseball schedule for the past 21 years, and remains one of the most-popular tours of the summer.
This year, the Classic Northeast tour is scheduled for July 31-Aug. 6 and includes six games plus a trip to the Baseball Hall of Fame in Cooperstown.
The tour starts in Baltimore with the Orioles against the Angels, then continues on with the Giants at Mets, the Yankees at the Red Sox, a day in Cooperstown, a double-header with the Giants-Mets in the afternoon and the Tigers-Yankees at night, then the Marlins at the Pirates.
Included in the deluxe motorcoach trip are tours of New York City and Fenway Park.
"This is one of our favorite trips all summer," president Tom Broach said. "We visit five great stadiums and the double-header on Aug. 4 is the cherry on top. We've extended the $200 per person discount until May 15, but the time to act is now because our deluxe motorcoach is filling up quickly."
Prices before the discounts are $1525 per person double occupancy, $1440 per person triple occupancy and $1813 private.
The Broach Coach will have departures from Charlotte, Raleigh and Baltimore, and will return to Charlotte from Pittsburgh.
Broach Sports Tours has been a leader in the sports and group travel industry for the past 21 years, specializing in MLB baseball tours. It offers 25 baseball tours this summer, including five weekend Atlanta Braves excursions.
Broach Sports Tours also offers Wimbledon travel packages, Ryder Cup travel packages and tours to the U.S. Open golf and tennis championships.
For more information, visit http://www.broachsportstours.com or call Melanie Smith at 800-849-6345.