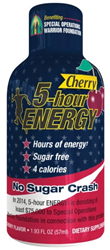 "This generous promotion will help us provide full college tuition to the children of special operators who die in the line of duty." SOWF President Joe Maguire
Tampa, FL (PRWEB) April 30, 2014
Living Essentials LLC, the maker of 5-Hour Energy, will donate five cents to the Special Operations Warrior Foundation from each "shot" of the company's new cherry flavor drink sold between May 1 and July 31.
The red, while and blue bottle will have the Special Operations Warrior Foundation logo on the neck.
"We're excited about the launch this week of the 5-Hour Energy Cherry Drink featuring our logo," said retired Vice Admiral and Navy SEAL Joe Maguire, president of the Special Operations Warrior Foundation.
"This generous promotion will enable us to continue to assure full college tuition to the children of special operators who die in the line of duty, and provide immediate financial assistance to our wounded Special Operations Forces," he said.
"Additionally, this campaign will introduce the Special Operations Warrior Foundation to a nationwide audience."
Created in 1980, the nonprofit SOWF supports the military's Special Operations Forces and their families through three key programs:

College scholarships for the surviving children of fallen Special Operations Forces
Family Services, including educational and family counseling and advocacy support
Wounded Special Operations Forces support, including immediate financial stipends of $3,000
Over the past 34 years, more than 900 special operations personnel have lost their lives on operational missions or during intense training programs; and more than 1,000 children survive these oft-unsung heroes.
About 5-Hour ENERGY®
5-Hour ENERGY is a liquid energy shot that provides a feeling of energy and alertness that lasts for hours. It contains a blend of B-vitamins and amino acids, zero sugar, four calories, and caffeine comparable to a cup of the leading premium coffee.
It is available at retail outlets in the United States and Canada as well as throughout the U.K., Ireland, Spain, the Netherlands and South Africa.