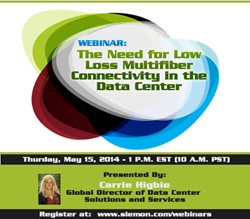 Optical insertion loss budgets have become one of the top concerns among data center managers.
Watertown, CT, USA (PRWEB) April 30, 2014
Siemon, a leading global network infrastructure specialist, is pleased to announce a new webinar that explains how low loss versions of Siemon fiber connectivity can help data center managers contend with today's shrinking optical loss budgets while supporting multiple mated pairs for flexible high-speed fiber channels. This latest webinar titled, The Need for Low Loss Multifiber Connectivity in Today's Data Center, will be presented by Carrie Higbie, Siemon's Global Director of Data Center Solutions and Services, and will take place on May 15, 2014 at 1 p.m. EDT.
Optical insertion loss budgets have become one of the top concerns among data center managers, especially in today's large virtualized server environments with new switch fabric architectures and higher speeds that result in longer-distance fiber backbone channels using MPO connectivity for networking and storage area network (SAN) applications. With these more stringent insertion loss requirements, standard loss MPO connectors significantly limit the number of mated connections that can be deployed in a fiber channel. This has created the need for low loss fiber connectivity that can support multiple mated connections for flexibility and manageability over a wide range of distances and configurations while providing data center managers with sufficient loss headroom for deploying the latest high-speed fiber applications.
"There are many trends happening in the data center environment such as higher speeds, new non-blocking designs and software defined networking that benefit from the use of cross connects," says Higbie. "With cross connects requiring more passive connection points within a channel, low loss fiber connectivity is the key to staying within loss budgets—especially in higher speed Ethernet and Fibre Channel applications that have more stringent loss requirements than ever before."
In addition to providing guidance on the number and type of low loss connections allowed for a variety of applications and configurations, this webinar will also provide a Q&A portion for participants to interact with the presenter. To register for the free May 15th webinar, The Need for Low Loss Multifiber Connectivity in the Data Center, visit: http://www.siemon.com/webinars. Anyone who registers for the event will gain first access to the Siemon white paper of the same name. All Siemon webinars are also archived for participants to select and review previously recorded sessions at any time.
###
About Siemon
Established in 1903, Siemon is an industry leader specializing in the design and manufacture of high quality, high performance low voltage infrastructure solutions and services for Data Centers, LANs and Intelligent Buildings. Headquartered in Connecticut, USA, with global sales, technical and logistics expertise spanning 100 countries, Siemon offers the most comprehensive suite of copper and optical fiber cabling systems, cabinets, racks, cable management, data center power and cooling systems and Intelligent Infrastructure Management solutions. With more than 400 patents specific to structured cabling, Siemon Labs invests heavily in R&D and the development of Industry Standards, underlining the company's long-standing commitment to its customers and the industry.