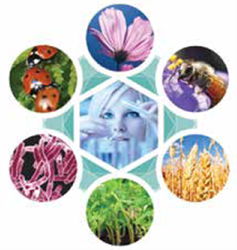 We've dedicated significant resources to improve Florida agriculture and employ Florida residents," said Jill Duggan, CEO of Vegalab LLC.
West Palm Beach, Florida (PRWEB) April 30, 2014
Vegalab the formulator and manufacturer of environmentally responsible agricultural products rooted in sustainability, today announces three new distribution partners in Florida; Application Dynamics, Hoodridge, and Triagon Turf Sciences. The three Florida based companies represent Vegalab's opportunity to expand its current presence in the commercial farming market across distinct channels: mosquito control, food crops and ornamental farming, landscaping and turf maintenance.
Application Dynamics is a family owned and operated company that has been on the forefront of aerial mosquito control for the past 46 years. As the business is passed down to the next generation, so is their pursuit to continuously find the best in agricultural products and bio-pesticide control. When Application Dynamics decided to broaden their services they turned to Vegalab because of their quality natural and environmentally safe products. The addition of Vegalab products makes them a full service agricultural company.
Hoodridge, a family owned horticulture company with more than 25 years in the nursery, agriculture, and landscape industries, was looking for an opportunity to introduce all natural products that would build its client services. Through this partnership, Vegalab has the opportunity to reach nurseries and agriculturalists that follows in line with their environmentally responsible practices. Hoodridge offers its clients safe and organic products that enhance plant growth and allows growers the opportunity to foster good practices in soil management. Thus, Vegalab's products are a natural addition to their offerings.
Vegalab's North American headquarters is in Florida, a state known for its lavish golf courses and luxury living communities. Therefore, partnering with Triagon Turf Sciences a leader in the Turf grass industry was a natural next step for the company. Triagon's expertise in the health and management of fine turf grasses has garnered it hundreds of golf courses throughout the state. Vegalab's nematode control products, for example, provide Triagon's clients a new solution to this common problem.
"Florida is a priority to us not just because it's our home base, but because the state relies so heavily on generating its income from agriculture and tourism. We've committed to dedicate significant resources to improve Florida agriculture which is responsible for generating $103 billion in annual economic impact," said Jill Duggan, CEO of Vegalab LLC. "Furthermore, we are here to support Florida in several ways: we have the best natural solutions to address the needs of the farming and landscape community; we are a rapidly growing company employing Florida residents; and we are committed to preserving the bountiful nature of this remarkable state."
About Vegalab
Vegalab is a global leader in formulating and manufacturing environmentally responsible agricultural products for farming, landscaping and home horticulture. Their unyielding commitment to produce eco-safe, all natural products that are based on years of biological research and patented technology has positioned the company and its Vegalab® and SUPREME GROWERS® brands for rapid growth. They offer a full suite of all-natural bio-pesticides (insecticides and fungicides), soil amendments, fertilizers and plant nutrients. The results of these innovative products are multifold: increase farming/gardening productivity, decrease residue in crops, decrease waste and reduction in the overall chemical footprint on the land. Vegalab® and SUPREME GROWERS® products are available through commercial agriculture distributors and at mass retail gardening centers and nurseries. Corporate headquarters is Geneva, Switzerland managed by David Selakovic, President of Vegalab S.A. and North American headquarters is West Palm Beach, Florida managed by Jill Duggan, CEO of Vegalab LLC. http://www.vegalab.com
For more information contact:
Angela Betancourt, Communications Mgr.
Vegalab, LLC
angela.betancourt(at)vegalab(dot)com
(302) 298-0888 Ext. 704