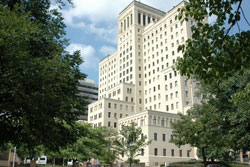 "These results signify the efforts of an incredibly talented and dedicated multi-disciplinary team of transplant specialists who have set a high standard of care in this very specialized and sophisticated field of medicine," Dr. Tony Farah said.
Pittsburgh, PA (PRWEB) April 29, 2014
The heart and liver transplantation programs at Allegheny General Hospital (AGH), part of the Allegheny Health Network, are the region's best in patient care quality, according to the latest report by the Scientific Registry of Transplant Recipients (SRTR).
SRTR is the official national database of organ transplantation statistics and serves as the repository of information used to analyze transplantation trends and patient outcomes in the United States. The new SRTR report covers transplantation procedures performed at hospitals between July 1, 2010 and December 31, 2012 (for one month and one year outcomes) and between July 1, 2008 and December 31, 2010 (for three year outcomes).
AGH's liver transplant one year and three year patient outcomes were the best of Pittsburgh's three adult transplant centers in the SRTR report. The program also posted the best three year survival rate of any adult transplant center in the state and was among the top 36 adult liver transplant programs in the country (out of approximately 139 medical centers) based on that same measure.
Importantly, AGH achieved its outstanding results in liver transplantation while treating the sickest of patients. AGH also uses a higher percentage of organs from older donors - which increases the availability of life-saving transplants for those in need.
Nearly two thirds of AGH's liver transplant recipients had MELD scores above 21. The Model for End-Stage Liver Disease, or MELD, is the scoring system endorsed by the United Network for Organ Sharing (UNOS) for assessing the severity of chronic liver disease. It is considered to be the most useful protocol in determining prognosis and prioritizing for receipt of a liver transplant.
Patients with MELD scores in the 21-30 range have a 20% expected 3 month mortality risk without transplant and those with scores in the 30-39 range have a greater than 50% expected mortality risk.
AGH's heart transplant program was equally impressive during the SRTR reporting period posting the best one and three year patient survival rates in the region and ranking among the top 24 programs in the country (out of 113 heart transplant centers) based on three year outcomes. More than half of the hospital's heart transplant recipients were treated with mechanical circulatory support devices prior to transplantation.
Among the key drivers of these superior results include the hospital's multi-disciplinary team based approach to patient care, tailored immunosuppression strategies and the application of sophisticated tools such as cardiac MR imaging and gene expression profiling in post-transplant management.
AGH's kidney and pancreas transplant outcomes also were strong during the review period.
"Allegheny General Hospital has long distinguished itself as a leading referral center for end-stage organ failure and transplantation. The exceptional quality of care demonstrated in the SRTR report reflects a commitment to clinical excellence and personalized care at every step of the patient's experience," said Tony Farah, MD, Chief Medical Officer for the Allegheny Health Network.
"These results signify the efforts of an incredibly talented and dedicated multi-disciplinary team of transplant specialists who have set a high standard of care in this very specialized and sophisticated field of medicine," Dr. Farah said.
AGH's Center for Abdominal Transplantation is directed by surgeon Ngoc Thai, MD, PhD. The Center's medical staff leaders also include transplant surgeons Kusum Tom, MD, Akhtar Khan, MD and Peter Abrams, MD; hepatologists Jose Oliva, MD, Medical Director of Liver Transplantation, and Cristina Strahotin, MD; and nephrologists Kalathil Sureshkumar, MD, Medical Director of Kidney and Pancreas Transplantation, Sabiha Hussein, MD, Khaled Nashar,MD, Bhavna Chopra, MD and Tina Ko, MD.
AGH's heart transplant program is led by Surgical Director, Stephen Bailey, MD, and Medical Director, Raymond Benza, MD. Other physician leaders in the program include transplant surgeon Robert Moraca MD; heart failure specialists Srinivas Murali, MD, Medical Director of AGH's Cardiovascular Institute and Director of AGH's Division of Cardiovascular Medicine, George Sokos, DO, Manreet Kanwar, MD, Amresh Raina, MD, and Richa Agarwal, MD; and surgeon George Magovern, MD, Chair, Allegheny Health Network Department of Thoracic and Cardiovascular Surgery.
Among many other healthcare professionals at AGH who are key members of the transplant team and who have been instrumental to the success of the program include critical care specialists Peter Linden, MD, Steve Bowles, MD, Subbarao Elapavaluru, MD, and Joseph Rossi, MD; anesthesiologists Mike Dishart, MD and Joseph Kim, MD; physicians specializing in psychiatry, pathology and infectious disease; intensive care nurses specially trained in transplantation, pre- and post- transplant patient care coordinators; physician assistants, social workers, dieticians and pharmacists.
Established in 1987, AGH's transplant program and its medical staff have been innovators in the field of transplantation over the years. AGH doctors, for example, helped pioneer the use of heart assist devices as bridges to transplantation and performed both the city's first bilateral adult kidney transplant and first laparoscopic live donor nephrectomy procedure.
AGH is also of just a few transplant centers in the nation to perform robotic assisted live donor nephrectomy, further minimizing the invasiveness of the procedure and its toll on kidney donors. The hospital also has helped reduce the waiting time for kidney transplant candidates by playing a major active role in national live kidney donor exchanges.