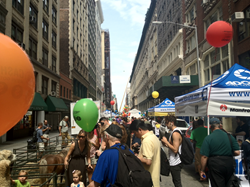 New York, NY (PRWEB) April 29, 2014
Adorama, one of the world's largest photography, video and electronics retailers, is holding one of New York City's most popular summer family events, its fourth annual Sunday Family Funday. This free street fair is scheduled on Sunday, June 8, 2014 on West 18th Street between Fifth and Sixth Avenues in Manhattan.
Last year's festival attracted more than 20,000 attendees over the course of the day. With more rides, games, food and technology vendors confirmed, this year's festival is expected to be even bigger. Leading camera and electronics brands that will be at this year's event include:

Canon
Sony
Samsung
Panasonic
Lexar
SanDisk
Verizon
Apple
Wacom
Pentax
Dell
Adobe
LG
Olympus
Foscam
Asus
Intel
Toshiba
Transporter
Bose
Epson
Bogen
Adorama
AdoramaPIX
Adorama Rental Co. (ARC)
Adorama Used + Trade
Nikon
Tamron
Zeiss
Photo Tech
Western Digital
Profoto
Flashpoint
Adorama has lots to offer, too – Adorama PIX, Rentals, Used and Trade, and the Learning Center will all have booths to visit at the fair. There will be specials and contests running throughout the day as well as free photography clinics, lead by some of the industry's top instructors, in Adorama's outdoor Learning Center tent.
Sunday Family Funday lets families start the summer season with a fun day of interactive games and activities. Sports fans will get a chance to meet Adorama's friends from WFAN radio, Boomer and Carton, who will be meeting fans and signing autographs. Adorama is a proud supporter of the Boomer Esiason Foundation to Fight Cystic Fibrosis and the annual street fair continues to raise money for this cause.
Festival Highlights Include:
Carnival Games and Petting Zoo – A host of carnival games and a live petting zoo will be great fun for kids, and kids at heart, throughout the day.
Food! – An amazing variety of food choices – it just wouldn't be a street fair without it.
Prizes and Raffles – Dozens of raffle items and prizes will be given away all day long.
Vendor Exhibits – Test drive the latest digital imaging technology from some of the biggest brands in photography.
Adorama Technology Learning Center – Learn how to make better photos and videos from some of the best photographers in the world at Adorama's outdoor Technology Learning Center. Learn to shoot like a pro!
Celebrity appearances
Get a Technology Makeover with special product pricing from Adorama – Bring your old camera gear and upgrade to the latest digital technology. Adorama is offering special pricing and trade-ins for one day only.
Families should be sure to look for the Adorama ad in the May issues of Manhattan Family and Brooklyn Family magazines for a coupon for complimentary popcorn at the street fair.
Adorama's Fourth Annual Street Fair will be held rain or shine on Sunday, June 8, 2014, from 10:00 a.m. – 4:00 p.m., on West 18th Street, between Fifth and Sixth Avenues. Adorama's retail superstore is located at 42 West 18th Street, making the street an ideal place for families to take advantage of the technology-related activities happening during the fair.
Updated information about Sunday Family Funday is available on the Adorama website, at http://www.adorama.com/alc/0014650/article/adorama-hosts-fourth-annual-street-fair-in-new-york-city.
ABOUT ADORAMA
ADORAMA: More Than a Camera Store
Adorama is more than a camera store - it's one of the world's largest photography, imaging and electronics retailers. Serving customers for more than 30 years, Adorama has grown from its flagship NYC store to include the leading online destination for photography, imaging and consumer electronics. Adorama's vast product offerings encompass home entertainment, mobile computing, and professional video and audio, while its services include an in-house photo lab, AdoramaPix, pro equipment rental at Adorama Rental Company and the award-winning Adorama Learning Center, which offers education for photographers in video channels such as the popular AdoramaTV.
Adorama is listed as Forbes.com's "Best of the Web" and in the Internet Retailers Top 100, and is the official Photo and Electronics Retailer of the NY Giants.