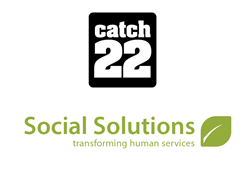 Our pilot of the ETO platform will further support our ability to achieve this vision, and deliver flexible, high-quality services to our clients.
Baltimore and London (PRWEB) April 29, 2014
Social Solutions Global, Inc. (SSG), the leading provider of performance management software for human services, is proud to announce Catch22 has selected Efforts to Outcomes (ETO®) software to support outcomes case management, marking the first expansion of the software to the United Kingdom.
Catch22, a forward-looking social business that delivers public services to troubled and vulnerable young people, families and offenders to help turn their lives around, will initially use ETO software to measure the impact of their London Mentoring Service and its Intensive Family Support programme situated in the Wirral. Catch22 intends to expand ETO software across all of its justice, family services, employability, community, gang prevention and education programs later this year.
The adoption of the ETO platform marks Catch22's move from paper- and spreadsheet-based data collection systems to a comprehensive, digital outcomes case management system that provides sophisticated data management and reporting capabilities, and allows staff to connect their day-today efforts with client outcomes to inform service delivery.
"At Catch22, we are very aware of the challenges that face the traditional public service delivery model, and have taken it as an opportunity to re-think how public services are delivered with an aim to improve outcomes, provide more responsive, individualized services, and achieve more with limited resources. Our pilot of the ETO platform will further support our ability to achieve this vision, and deliver flexible, high-quality services to our clients," said Chris Wright, Chief Executive of Catch22.
"Time and again, Catch22 has proven to be a highly innovative organization, leading the way in developing effective programs and approaches to human services. We are very excited about this partnership and look forward to supporting Catch22's important work across the United Kingdom," said Scott Johnson, CEO of Social Solutions.
About Catch22:
A forward looking social business, Catch22 has over two hundred years' experience of providing services that help people in tough situations to turn their lives around.
-Our programmes help those we work with to steer clear of crime or substance misuse, do the best they can in school or college and develop skills for work, live independently on leaving care or custody, gain new skills and confidence as parents, and play a full part in their community.
-In 2012/13 we worked directly with 34,758 people, supporting a further 61,381 young people through national partnership programmes, which means we touched over 96,000 lives.
-When surveyed in 2012/13, 95% of service users said that our support had made them happier with their lives and 91% said our support had given them more control in their lives.
About Social Solutions Global, Inc.:
Social Solutions Global, Inc., creators of Efforts-to-Outcomes (ETO®) software, equips over 16,000 high-performing nonprofits, public agencies, donors and evaluators, with web-based data-tracking and outcomes-oriented case management tools to help improve results, simplify reporting requirements and improve efficiencies in delivering services across agencies and funding streams. Unlike traditional CRM and Case Management tools, ETO software was designed to help agencies improve outcomes, by identifying and scaling effective programs. The ETO platform is flexible enough to be uniquely configured based on service population and evidence-based practices models, without the need for custom development to make changes to the software as your organization continues to evolve. For more information visit http://www.socialsolutions.com. Follow us on Twitter: @SocialSolutions.